A 'Married With Children' Reunion Could Bring Back the Bundys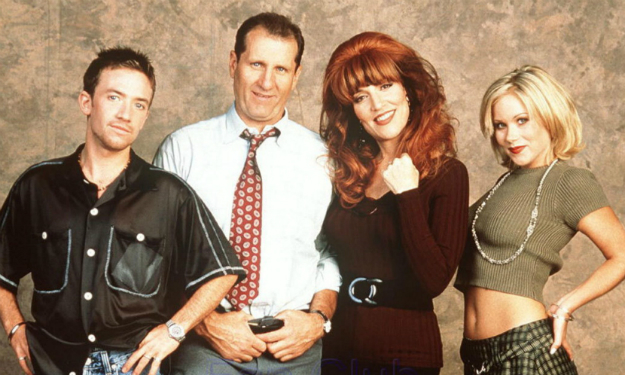 Posted by Nick Romano on
Since going off the air in 1997 with 11 seasons under their belt, the stars of Married…with Children went their separate ways. Ed O'Neill (Al) stars in the Emmy-winning sitcom Modern Family, Katey Sagal (Peg) became the coolest biker mom on Sons of Anarchy, David Faustino (Bud) voiced Mako on the acclaimed Nickelodeon cartoon The Legend of Korra, and Christina Applegate (Kelly) went on to star in the Anchorman films, the sitcom Up All Night and the recent Vacation reboot. But it looks like the Bundys are getting back together for a reunion, and perhaps a TV spinoff for Bud Bundy.
E! News caught up with Faustino, who came out for the premiere of Vacation to support his former co-star. According to the actor, Sony is setting a new series into motion based on Married with Children, a la Fuller House. "Sony has it. They're excited about it," he said. "They're working out some legal issues that we hope they work out." He also said that "the whole cast, including Christina, is down to do little bits in it. The idea would be a pilot for a spinoff. That's all I can say right now. It involves me and a few other people."
A Married…with Children spinoff continuing the dysfunction of shoe salesman and father Al and his family seems like a natural progression in the current TV reboot climate. The cast of Full House, another popular series from the '80s and '90s, are reuniting for Fuller House, a new Netflix series focusing on DJ (Candace Bure) and her bff Kimmy (Andrea Barber). Then there's the return of Agents Mulder (David Duchovny) and Scully (Gillian Anderson) for a new X-Files series, and David Lynch's Twin Peaks is also making its way back to television. Short of rebooting the entire series, a Married spinoff fits right in with this trend of tickling our nostalgia epicenters.
We'll have to wait and hear more from Sony, however, as an official deal hasn't yet been made. Something can always go wrong. Look at Twin Peaks — even after it was formally announced, it got pushed back a year. So, while we would all love to see Sagal's hair bob back onto TV, we shouldn't count our eggs before they hatch.