Louis C.K., Denis Leary, Amy Schumer Will Guest On Jon Stewart's Final Daily Show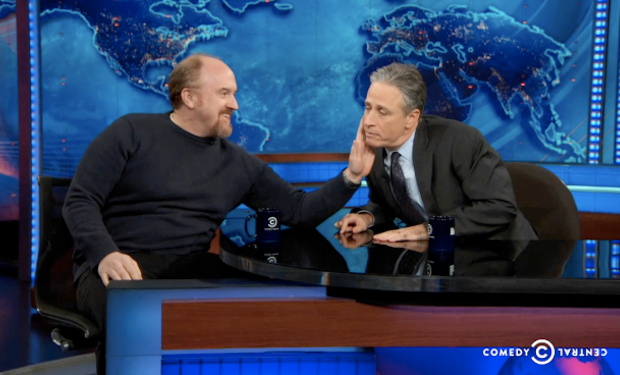 Posted by Derrick Rossignol on
On Thursday, August 6th, a beautiful era in American history comes to an end: The Daily Show's last episode with Jon Stewart as host will air. Stewart has absolutely slayed the political sphere with precise wit while simultaneously providing genuine insight and commentary since 1999, when people still bought plastic tag protectors for their Beanie Babies. At the end of last night's episode, Stewart announced that the guests on his final episode will be an all-star line-up: Louis C.K., Denis Leary (one of the brains behind IFC's upcoming hockey comedy Benders) and Amy Schumer.
Louis and Leary have been buddies of Stewart's for years and have had hilarious moments on the show, like Louis' classic defense of the fart as comedic royalty, and the time Leary and Stewart just made fun of each other for ten minutes. Relative newcomer Schumer has never guested on the program, but she did turn down the chance to be the show's next host.
There's sure to be more than just these guys going on next Thursday: There's no way Stephen Colbert doesn't visit, right? Maybe even Steve Carell? The finale will be a double-length episode, so anything could happen. Fingers crossed for a Donald Trump appearance.