Kristen Wiig and the Rest Of the Ghostbusters Look Super Badass In New Cast Photo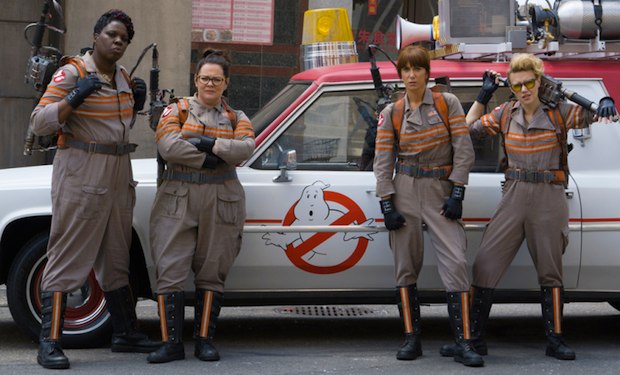 Posted by Derrick Rossignol on
Ghostbusters director Paul Feig has previously tweeted out photos of set elements from the upcoming Ghostbusters reboot: the suits, the proton packs, the Ecto-1, but we have yet to see Leslie Jones, Melissa McCarthy, Kristen Wiig, and Kate McKinnon in close proximity to any of these things that will soon be part of their very funny legacies. But that changed this weekend, when Feig tweeted a photo of the main Ghostbusters cast all geared up and looking phenomenally badass.
We know who we're going to call: our mothers, because they've left a ton of voicemails, they won't stop calling, we love them, and we need something to do while waiting for Ghostbusters to hit theaters on July 22nd, 2016. Bill Murray, Dan Aykroyd, and Harold Ramis cannot be replaced, so it's a good thing that Jones, McCarthy, Wiig and McKinnon aren't trying to do that: Jones' energy, McCarthy's slapstick and wit, Wiig's intentional awkwardness and McKinnon's skillful character acting are going to add a modern dimension to a beautiful franchise that has been relatively quiet over the past 30 years.
And if we're lucky, Wiig will put her tiny Gilly hands from Saturday Night Live back on and try to wrangle some spirits. Excuse us: we have to start a petition to make that happen now.
#whoyougonnacall pic.twitter.com/hnrSjhCqSl

— Paul Feig (@paulfeig) July 10, 2015
Missed Kristen Wiig in The Spoils Before Dying? https://www.ifc.com/shows/the-spoils-before-dying" target="_blank">Watch it now!