Jon Stewart Joined Louis CK for a Surprise Stand-Up Set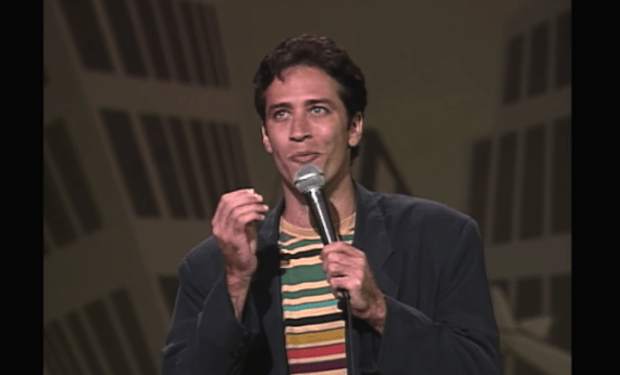 Posted by Mike Schuster on
Next week marks the final taping of The Daily Show with Jon Stewart as host. The comedian stated he'll spend his retirement operating an animal rescue farm in his home state of New Jersey, but what will the former late night host do when he gets the urge to perform before a live audience? Well, if last night was any indication, it's safe to say he'll still pop up from time to time.
Returning to his early days as a stand-up, Stewart joined comedian Louis CK for a surprise set at the Comedy Cellar in New York City. (You may recognize the stage from the stand-up segments in CK's series Louie.) Gracing the performance space after a long hiatus, Stewart remarked, "It's been twenty years!", though club owner Noam Dworman mentioned to The Comic's Comic that he had tested out some material roughly a decade ago. "I could do this again," Stewart said after the show.
So, rest assured, while it may be the last time we see Jon Stewart behind the Daily Show desk, you can't keep a former comic from scratching that live performance itch.
Check out the Comic's Comics' snapshot of Stewart and CK hanging out and talking shop here.