Everyone From David Hasselhoff to Anthony Weiner Is In the Sharknado 3 Trailer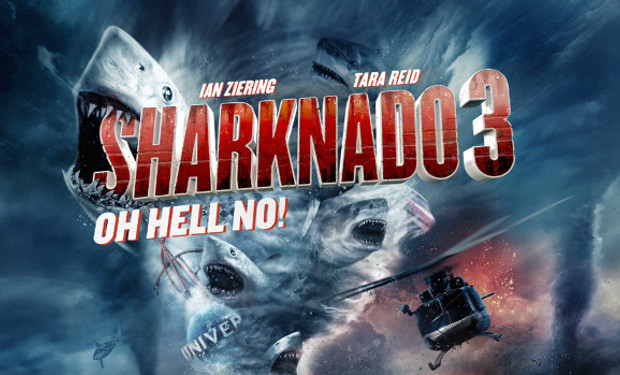 Posted by Derrick Rossignol on
We know: the Sharknado franchise — that feels weird coming off the tongue — is easy and fun to laugh at, the lowest-hanging of fruit. But we actually have something good to say about it! The trailer for Sharknado 3: Oh Hell No! was released last week, and aside from being confidently self-aware of its B-movie status, Sharknado 3 may have the most diverse cast in the history of film.
Franchise regular Tara Reid returns, and the rest of the cast reads like a bizarro and greatly expanded Village People lineup. We're going to ignore conciseness and rattle off all of the noteworthy cast members, because it truly is something beautiful — the Sistine Chapel of casting, if you will.
Reid is joined by — get ready, deep breath — David Hasselhoff, Dallas Mavericks owner and Shark Tank's Mark Cuban, political commentator Ann Coulter, former presidential candidate Michele Bachmann, former New York City mayoral candidate Anthony Weiner, Frankie Muniz, Jerry Springer, NSYNC's Chris Kirkpatrick, Ryan Kerrigan and Chris Kirkpatrick of the NFL's Washington Redskins, former NBA player Rick Fox, wrestler Chris Jericho, former wrestler Maryse Ouellet, Playboy personalities Holly Madison and Kendra Wilkinson, SportsNation's Michelle Beadle, Marcellus Wiley and Max Kellerman, Irish singing duo Jedward, Kathie Lee and Hoda, rapper Ray J, NASCAR driver Joey Logano, Police Academy's Michael Winslow, The Real Housewives of Beverly Hills' Kyle Richards, former Welsh soccer player Neville Southall, Penn & Teller, singer Ne-Yo, The Incredible Hulk's Lou Ferrigno, MythBusters' Grant Imahara, and The Today Show's Savannah Guthrie, Matt Lauer, Natalie Morales and Al Roker.
Sharknado 3: Oh Hell No! premieres July 22nd at 9PM on Syfy. Now please excuse us while we figure out how to make a Sharknado 3 fantasy league.