Yes, a Male Ghostbusters Movie Could Also Be Happening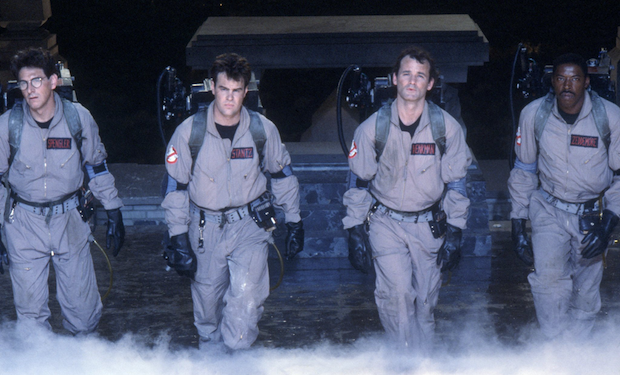 Posted by Derrick Rossignol on
While the upcoming Kate McKinnon, Kristen Wiig, Melissa McCarthy, and Leslie Jones version of Ghostbusters is highly anticipated, there are some purists who insist that ghost-busting is strictly a guy thing. And since Sony is set on turning Ghostbusters into the next multi-movie franchise, it's only a matter of time before we get a movie with some Bro-Busters. Screenwriter Drew Pearce recently finished a script bible for yet another Ghostbusters movie, and it could likely feature some male Ghostbusters.
Rumor has it Chris Pratt and Channing Tatum are currently linked to the project, so there will be a couple elements in there for the ladies after all. And after the initial reports proved to have some inaccurate information, Pearce took to Twitter to clarify a couple things, namely that his Ghostbusters team would be mixed-gendered, and he hasn't actually written a script just yet:
For the record, my GB idea has a mixed gender team. Also ghosts of all classes (I to VII). It's very inclusive that way.

— Drew Pearce (@mrdrewpearce) July 29, 2015
Also, I've only written a bible (because I have to go off and direct my own stuff). No script yet. So news cycle: CHILL YOUR BOOTS.

— Drew Pearce (@mrdrewpearce) July 29, 2015
A couple days ago, Pearce also said that all of these iterations of Ghostbusters could somehow be part of the same cinematic universe, saying, "My idea may allow them the ability to connect everything. It's kind of a choice above my pay grade but on a level of imagination and creativity, I would love to see a world where all of the things were a shared universe. It's just more attractive for a massive fan of Ghostbusters like me."
How do you feel about an expanded Ghostbusters universe? Does this mean we'll finally get a Slimer and the Real Ghostbusters movie? Won't someone bring back Slimer's pal Luigi??