Watch Nick Offerman, Betty White and More Audition to Play Wolverine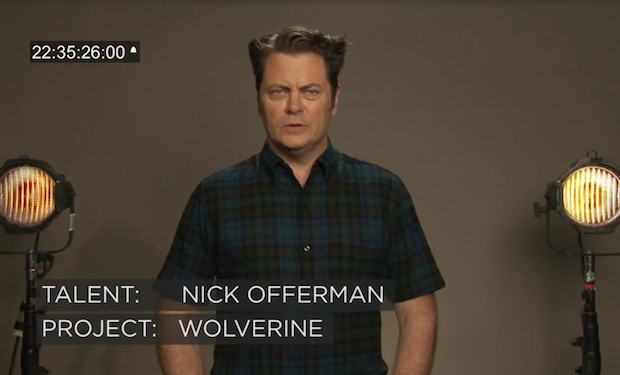 Posted by Derrick Rossignol on
If there is a singular role that can be used to define the career of Hugh Jackman — or Huge Jacked-man, as we call him — it's Memphis the penguin in Happy Feet. If there's a runner-up part, it might be his role as Wolverine in the X-Men franchise. The Aussie actor announced recently, however, that after X-Men: Apocalypse, which he is currently filming, he will move on from popping retractable claws out of his hands.
It can't be easy to recast a role that is so strongly tied to the actor best known for playing it, but the folks at 20th Century Fox are already trying. During the special Comic-Con episode of Conan, Conan O'Brien showed the totally real audition tapes of many Hollywood figures hoping to get some of that Marvel cinematic universe money.
Auditions do not appear to have gone well. Thomas Middleditch delivers Wolverine's signature "I'm the best there is at what I do" line with the boldness of his meek Silicon Valley character. Nick Offerman skewed slightly too Australian, Patton Oswalt too theatric, Hannibul Burress too, uh, Gambit, Larry King too Larry King. Looks like it'll be a long search for the next Wolverine.