Canadian Man Soars In 'Up'-Style Balloon Chair, Lands In Jail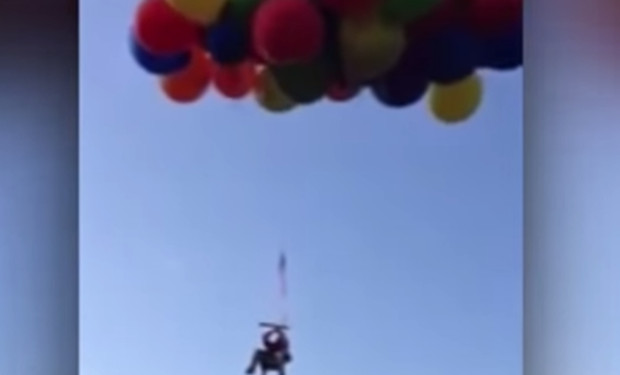 Posted by Derrick Rossignol on
While Up is the beautifully poignant tale of an aging man trying to fulfill the dreams of his late wife by strapping balloons to his house and flying away, Up 2 might not be as magnificent if Pixar bases it on the story of its latest cosplayer. Yes, a Canadian man tied 110 balloons to a cheap lawn chair, flew among the planes, then was detained by police upon landing.
Depending on your perspective, that story might actually be more magnificent, especially if you're Daniel Boria, the man who did it. He told Canadian news network CBC, "It was incredible. It was the most surreal experience you can ever imagine. I was just by myself on a $20 lawn chair up in the sky above the clouds. At one point, I was looking up at the balloons, they were popping, the chair was shaking and I was looking down at my feet dangling through the clouds at a 747 flight taking off and a few landing."
When he touched the ground, Boria was arrested, then released and charged with "one count of mischief causing danger to life." Boria said the flight was a publicity stunt for his cleaning products company, and if we knew the name of that company, we would happily shill for him. What this man did was beautiful, and he deserves our money. Check out video of his liftoff and landing below.