Bobby Moynihan and Chris Gethard Promoted Forgotten Star Wars Characters With Ham at Comic-Con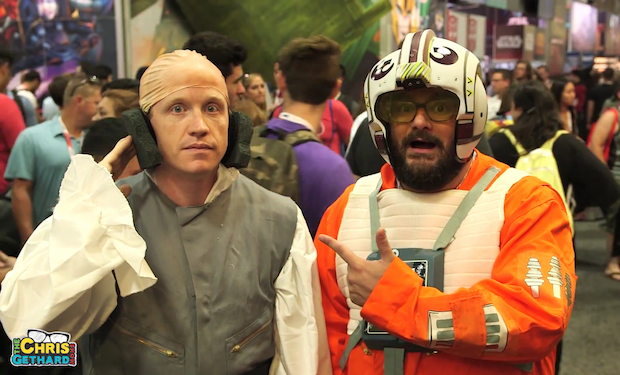 Posted by Derrick Rossignol on
Comic-Con is always full of surprises, but this year, Chris Gethard and Saturday Night Live's Bobby Moynihan delivered the thing that people saw coming the least: ham, for some reason. The two took to the floor at San Diego Comic-Con to celebrate losers, so Gethard walked around as who he deemed the biggest loser in a galaxy far far away: Lobot from Star Wars.
Moynihan — dressed as Star Wars' Jek Tono Porkins, a trader and pilot from Bestine IV — encouraged equally nerdy passersby to "scream the name of the shittiest character/best character" in all of Star Wars, rewarding them with slices of deli ham. Get it? Ham, from Porkins? Meh: lame joke, good ham.
Gethard and Moynihan saw many confused reactions to their meat rewards, but then the raw glee of a young ham-loving boy legitimized the entire practice. Ham on, little man, and may pigs fear you for the rest of your days.