10 Kickass Female Superheroes Who Need Their Own Movies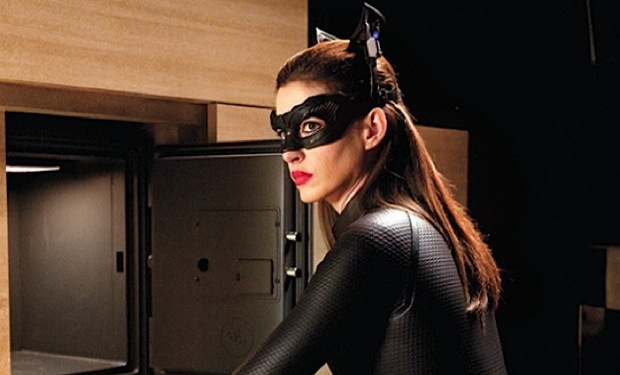 Posted by K Thor Jensen on
Fans are already kvetching that almost every Avenger but Scarlett Johansson's Black Widow gets their own solo outing, and Marvel isn't dropping a female-led flick until 2018's Captain Marvel. DC will hit with Wonder Woman a year earlier, but there are so many female ass-kickers who should already have Hollywood deals. Here are our picks for superheroines who should already have their own movies.
10. She Hulk
We've had two Hulk films to date (four if you count the Avengers movies), yet Bruce Banner's cousin lawyer/superhero Jennifer Walters has yet to turn up on film. (Though a movie was developed for Brigitte Nielsen during the '90s. Check out the promo photo and be glad it never happened.)
---
9. Emma Frost
Starting her career as a villainous member of the Hellfire Club, the powerful psychic Emma Frost has been batting (mostly) for the X-Men in recent years. Her powers of manipulation and plunging bustlines would make her a fun anchor for a solo flick outside of the crowded X-Men movies, which don't give her any time to shine.
---
8. Cameron Chase
It's a stretch to call Cameron Chase a "superhero" – when she debuted in her own DC Comic in 1998, she seemed to be batting for the other team more often than not. As an agent of the Department of Extranormal Operations, her job was to monitor and neutralize supers – both hero and villain – who went over the line. It's a great premise for a flick – an ordinary woman in a world full of freaks, tasked with taking them down. Hey, if Suicide Squad can be a summer tentpole movie, so can Chase.
---
7. Street Angel
Created by the team of Jim Rugg and Brian Maruca, Street Angel is a surly, homeless 12-year-old girl named Jesse Sanchez who is equally adept at skateboarding and kicking ninja asses. A short film of the series was actually produced in 2008, but it just left us thirsty for more.
---
6. Amethyst
One of DC's most unusual concepts, Amethyst: Princess of Gemworld was a 1983 series about a young girl who gets pulled into another dimension to battle for control of a magical realm. Despite its kiddie look, Amethyst was remarkably dark for the time, featuring murder, betrayal and political machinations that would make a sweet-ass movie.
---
5. Promethea
Movies based on Alan Moore comics are usually total stinkers, but who knows? Maybe they'd get it right with Promethea, his wildly ambitious 1999 series about the power of stories that also served as a guided tour through his own mystical cosmology.
---
4. Squirrel Girl
The list of Marvel heroes who have defeated Dr. Doom, Thanos and Galactus can fit on a regular-sized Post-It note. That is, unless Squirrel Girl writes her name in big letters. The rodent-controlling part-time nanny has become one of Marvel's most endearing characters, and a light comedy romp in the Ant-Man style would be a lot of fun.
---
3. Harley Quinn
Yes, we know that Harley's going to have a major role in that Hot Topic-looking Suicide Squad thing coming out next summer, but really she deserves her own solo joint first. Quinn's character has gone through some major evolution since debuting in Batman: The Animated Series, and her current comic book incarnation is a wise-cracking omnisexual opportunist with a heart of gold and an itchy trigger finger.
---
2. Catwoman
Yes, there was that Halle Berry debacle about killer cosmetics or whatever. And while we enjoyed the character's portrayal in The Dark Knight Rises, there has yet to be a big screen solo outing for Selina Kyle that captures the character at her crime noir-tinged best. Hopefully DC/Warner Bros' next wave of films will include a Catwoman film adapting Ed Brubaker and Darwyn Cooke's run of comics.
---
1. Ms. Marvel
Yes, Carol Danvers – the original Ms. Marvel, now Captain Marvel – is getting her own movie. But one of the most unlikely hits in the comics world right now is the story of Kamala Khan, a Muslim girl from New Jersey who gets super-powers and "borrows" her favorite heroine's old name. Kamala is one of the greatest character creations of the 21st century, and she's building a whole new generation of fans. She certainly deserves her own movie.