Woo hoo! Watch Homer and Marge Deny Divorce Rumors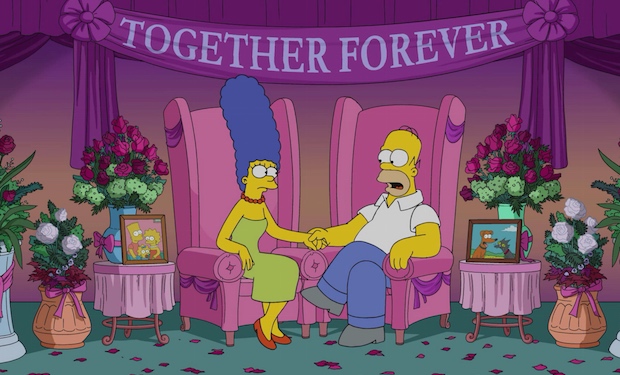 Posted by IFC on
By Derrick Rossignol
The future of America's favorite, yellow-est couple has come under question recently as the sad, sad rumor that Homer and Marge Simpson would go through a separation during the upcoming 27th season of The Simpsons started to gain traction. In a slight breaking of the fourth wall, the couple responded to the drama and released a video in which they assure fans that the rumors are "baseless."
"The story was first reported on CNN. Then, real news started reporting it all over world," Marge said. During the rest of the clip, Homer talks himself into a corner, admitting to early-morning drinking and near-infidelity. But was this marriage, as fragile as it often seems, ever in any real jeopardy?
No. Of course it wasn't. Nothing really changes on The Simpsons. Bart has been in the 4th grade since 1989.
The Simpsons family has been through everything: 26 seasons, 574 episodes, Homer losing his job several times, and a bunch of other letdowns — including everything after Season 11, as The Simpsons purists would argue. A main cast shake-up of this magnitude after a quarter of a century would be an unnecessarily big risk and would almost definitely leave Homer a bachelor for the rest of his hedonistic life. Matt Groening could never damn his lovable oaf to such a fate.