Watch the Most Luxurious Trump Supporter Hit the Street on Seth Meyers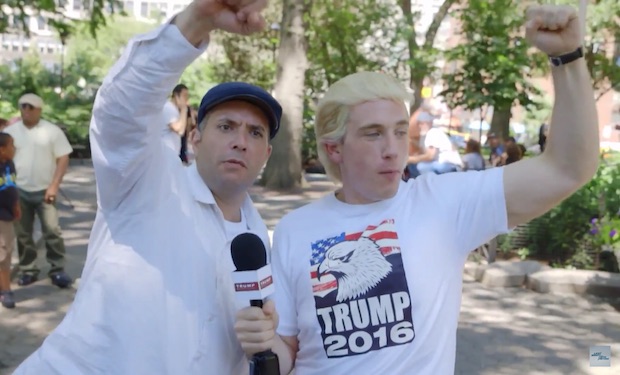 Posted by IFC on
Derrick Rossignol
Donald Trump is currently polling as the second-most supported Republican candidate. The Trumpster has also gained the allegiance of Late Night with Seth Meyers writer Conner O'Malley, who took to the street to drum up support for the man he wants to run the country.
Donning an eagle-clad Trump campaign shirt and a ridiculous and therefore accurate hairpiece, O'Malley told Meyers that he has "never felt more connected to another human being, let alone a presidential candidate, in my entire life."
On the street, O'Malley engaged passersby with enticing promises on behalf of Trump that help establish a strong platform: The U.S. will invade China and take all of their gold to pay back the Saudis, and women would get one free wicker item from Pier 1 Imports once a year on their birthday. That last point may be moot, though, because women will also be outlawed in a Trump-led United States.
Trump has yet to announce his official backing of O'Malley's ideas.