Watch Stephen Colbert Skewer Donald Trump's Ego-Driven Campaign Announcement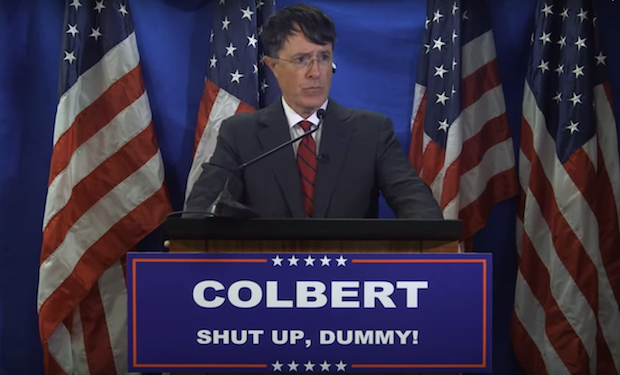 Posted by Mike Schuster on
At a time when the richest among us are given the biggest soapboxes, people still forget that even the biggest laughingstock of a candidate can earn quite a bit of money despite having no hope at a presidential bid. Unfortunately — or fortunately, if you work in comedy — blowhard Donald Trump is well aware of this and recently announced his ego-driven, Super PAC-courting run for the White House seat.
But amidst the roar of millions of eyeballs rolling in their sockets, future Late Show host Stephen Colbert skewered the self-centered windbag with his own brand of faux-arrogance. Sporting a Bluetooth earpiece and devil-may-care bangs, Stephen envisions a heavenly presidency for Trump — "cloud-side bottle service, classy, clean," and don't get him started on those other "joke heavens." Sure, it may all be a promotion for the premiere of Colbert's Late Show on September 8th, but that's not too far off for why Trump is running.
Watch Colbert take on the Donald and rest assured that a candidate this bad won't be left unscathed.