Stephen Colbert Says Goodbye to His 'Colbeard' in First Late Show Promo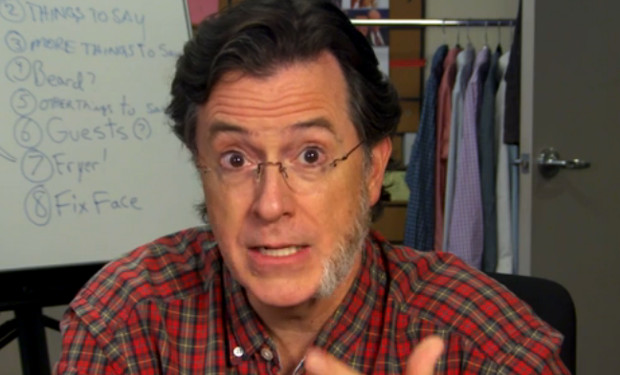 Posted by Nick Nadel on
It seems like only yesterday (well, six days ago technically) that the sign for David Letterman's Late Show was taken down from the Ed Sullivan Theater in midtown Manhattan. And while we all enjoyed the countless tributes to Dave's legacy and weeped during that Foo Fighters-scored montage, this is the Internet and the Internet has already forgotten Dave amidst a rash of Caitlyn Jenner op-eds and terrible Entourage clips. So it's with great pleasure that we give you a reason to be excited about late night TV again…Stephen Colbert is back!
Well, sort of. While his Late Show doesn't premiere until September 8th, Stephen knows that he's been gone a long, long time in Internet time. So the folks at the new Late Show released a video where Colbert updates his fans on what he's been doing to get ready for his big CBS debut.
Like most men between jobs, Colbert has used his downtime to grow a tremendous beard, dubbed the "Colbeard," of course. And now he has to shave it, lest he run afoul of fellow CBS star Tom Selleck. This leads to all manner of facial hair looks, our favorite being the "half Wolverine." Sadly, we fear America isn't ready for their newest late night host to only go half Wolverine.
While there isn't any footage of what the actual new Late Show will look like, the video is classic Colbert, right down to the ending beard montage gag. September can't come soon enough.