Watch Larry David and Jason Alexander Have a Loser-Off at the Tonys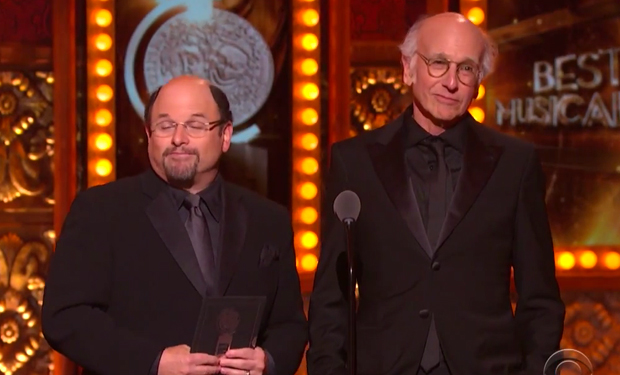 Posted by Melissa Locker on
Larry David and Jason Alexander hung out at the Tony Awards last night and since they are not making any more official Seinfeld episodes (for unofficial ones, head right this way) we will take any combination of Seinfeld characters and call it a happy reunion.
The two were supposed to be introducing the 2015 winner of Best Musical, but got sidetracked by their own personal issues. Alexander is stepping in for David in the Broadway play Fish in the Dark and neither of them could help but use the opportunity to rib each other over their various losses. Who was the biggest loser though? David, who was not nominated for his own play, and went on a rant, which was actually funny.
Dame Helen Mirren was not a loser, though, taking home best leading actress in a play for The Audience, which is the perfect excuse to remind the world that she will be introducing Documentary Now! later this summer.
Want the latest news from IFC? Like us on Facebook and follow us on Twitter@IFC