The 10 Most Nicolas Cage Moments Ever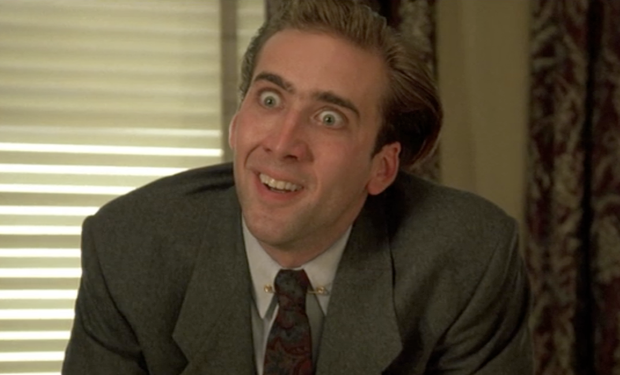 Posted by Brian Steele on
Nicolas Cage isn't just the star of National Treasure, he is one. Much like the bemulleted Superman he nearly played, Cage has the feeling of an alien among us, trying to act human, but never quite getting it right.
Here is a man who sleeps in Dracula's castle for fun, collects dinosaur skulls and has built a pyramid to spend eternity in. (Oh, and he might be a time traveler/immortal vampire.) You get the feeling that he rolls out of bed already at 11, and just ramps it up from there.
Here are a few moments that truly encapsulate all that is Nicolas Cage. Moments that can only compare to staring at the sun itself, if the sun starred in a bunch of mediocre genre films. So let yourself be blinded by his majesty below, but be warned, much like Mr. Cage himself, these clips can be NSFW.
10. National Treasure: Book of Secrets
It's easy to watch this scene, and assume Nic Cage was told this was a romcom, and that he was supposed to act like he was on a typical date.
---
9. Deadfall
This performance is like if Cloud Atlas had sex with a pile of cocaine. It's utter madness. This is genuine, uncut Cage right here, people. Street value, priceless.
---
8. Vampire's Kiss
This movie is legendary for the lengths Cage went to in order to give an authentic performance as a vampire. He famously ate a live cockroach during filming, for instance. We're not sure if he fully understood that vampires aren't real, and we're glad no one thought to tell him.
---
 7. Matchstick Men
Matchstick Men is one of those odd movies that knows how to channel full-blown Cage in a productive direction. That usually involves him playing an insane person, but the results are nothing short of spectacular.
---
6. Ghost Rider
You kind of get the feeling that this is just how Cage enters a room. Screaming, while catching on fire, with a 50 percent chance his face will burn off.
---
5. Bad Lieutenant: Port of Call New Orleans
The odd thing about Nic Cage smoking crack in a movie is that it doesn't really do much to change his performance. Now if crack ended up smoking Nic Cage, that's something we'd like to see.
---
4. Face/Off
This, ladies and gentlemen, is how you begin a movie. First, every movie should start with Nicolas Cage. That's a given. Then, ideally, have him in some religious garb, for the appropriate amount of sacrilege. Then have him furiously dance, overact, and grope women. Frankly, what more do you need?
---
3. Adaptation 
Cage gives a brilliantly unhinged performance as writer Charlie Kaufman and his twin brother Donald. Only Nic Cage could convey the literal struggle between a writer and his inner hack.
---
2. The Michael McIntyre Chat Show
And of course, Nic Cage isn't just insane on the big screen. Here he is walking onto a talk show, while stripping, throwing cash at the crowd, and performing a cross between karate and Elvis moves. If his head burst into a flaming skull, it could not be any more weird.
---
1. The Wicker Man
Punching old women? Bear suits? Bees? A bizarre belief that this was a real movie, and not some inside joke with the universe? It doesn't get more bat sh*t crazy then this Nicolas Cage classic.