A Definitive Ranking of Every SNL Movie From Worst to Best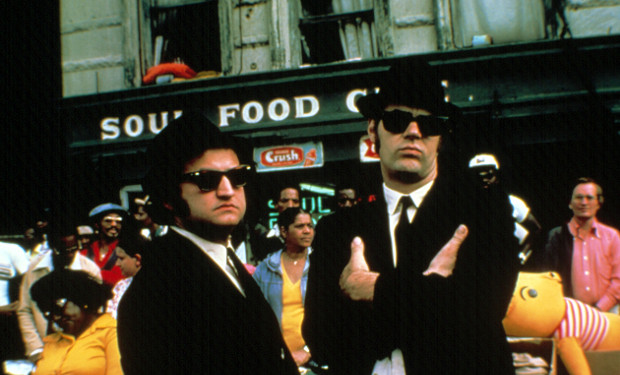 Posted by K Thor Jensen on
Lorne Michaels' long-running TV empire has launched the careers of dozens of comedians, but its efforts to branch out into theaters have been… uneven, at best. Here's the official, inarguable rundown of SNL movies, from worst to best.
11. A Night at the Roxbury
Not only is this the absolute worst of the SNL films, it lands pretty solidly on a list of the absolute worst films of all time, period. Will Ferrell and Chris Kattan star as infuriating recurring characters Steve and Doug Butabi, two Yemeni-American club kids who mug through a number of ludicrous situations involving the L.A. nightclub scene. This movie is painful to watch and thankfully murdered Chris Kattan's career while leaving Will Ferrell relatively unscathed.
---
10. Blues Brothers 2000
Making a sequel to one of the greatest comedies of all time (more on that later) is generally a bad idea, especially if one of the stars of the first movie is dead. The odious Blues Brothers 2000 suffers from the absence of John Belushi, and adding a wisecracking 10-year-old orphan doesn't help matters at all. Some solid music on the soundtrack can't redeem this one.
---
9. It's Pat
Probably the most polarizing movie in the SNL canon, you either love It's Pat or it makes you want to kill somebody. (It scores the rare 0% on Rotten Tomatoes.) Julia Sweeney's bizarrely androgynous character was tough to deal with in five minute segments, but that cringe-inducing humor actually becomes more affecting in a feature film. Fun fact: Quentin Tarantino did some uncredited work on the script.
---
8. The Ladies Man
The late '90s were the nadir of Saturday Night Live spin-off movies, as Lorne Michaels desperately tried to catch lightning in a bottle again following the success of Wayne's World. It all ended with 2000's The Ladies Man, starring Tim Meadows as radio lothario Leon Phelps. Directed by Reginald Hudlin (who deserves much better), the end result is a chore to get through.
---
7. Stuart Saves His Family
Al Franken's Stuart Smalley was a character born for TV – a relentlessly cheerful motivational speaker with a tenuous connection to reality. As the anchor for a feature film, he just doesn't work. The box-office bomb earned under a million bucks in theaters, and was one of late director Harold Ramis' few flops.
---
6. Superstar
The thing with Saturday Night Live characters is that many of them are based on annoyance or all-out revulsion, and that's hard to hang a movie script on. One that pulled it off was 1999's Superstar, starring Molly Shannon as armpit-huffing Catholic schoolgirl with dreams of fame Mary Katherine Gallagher. (Will Ferrell's turn as Sky Corrigan definitely helps.) The character's just weird enough to work, and the supporting cast (including Ferrell, Tom Green, and Mark McKinney) is pretty solid.
---
5. Wayne's World 2
After the huge success of the first Wayne's World movie, Paramount wanted to go back to the well right away with a sequel. Unfortunately, it missed a lot of the things that made the original successful and tried to make up for it with lots and lots of celebrity cameos – Heather Locklear! Jay Leno! Aerosmith! Rip Taylor?
---
4. Coneheads
Most of the movies based on SNL sketches have been roughly contemporaneous, but Coneheads is the bizarre exception. The first Coneheads bit aired in 1977 and the movie came out sixteen years later. That said, it's a fairly solid take on the franchise, with alien family Beldar, Prymaat and Connie dealing with life in suburban New Jersey.
---
3. MacGruber
Will Forte's TV action star character is an obvious parody of MacGyver, but it's a broad enough concept that it works stretched out to an hour and a half. This is probably the most lowbrow of any SNL movie to date, with lots and lots of toilet humor, but it's charming in its own way.
---
2. The Blues Brothers
The first film based on recurring SNL characters is still one of the greatest. Dan Aykroyd and John Belushi so perfectly inhabited the black suits of Jake and Elwood Blues that they're inseparable from the characters, and the car chase scene is one of Hollywood's most iconic. Throw in hot as fire performances from James Brown, Aretha Franklin and Ray Charles and you've got a true American classic.
---
1. Wayne's World
Mike Myers and Dana Carvey took a classic SNL setup – two losers doing a local access TV show – and built an entire weird world around it as Wayne Campbell and Garth Algar. Penelope Spheeris (The Decline of Western Civilization) was the perfect director to take the duo to the big screen, and it remains the highest-grossing of any of the Saturday Night Live films theatrically. A still quoted classic, it's the gold standard that all future SNL films are held up to. Oh, and it also has Tia Carrere at the height of her smoking babeness. Schwing!