The 11 Types of Lip Sync Scenes From the Movies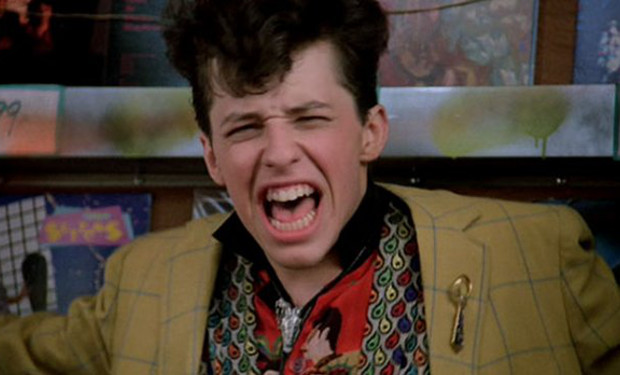 Posted by IFC on
By Kevin Maher
Saturday Night Live writer Michael O'Donoghue observed that the 1950's fad of paint-by-numbers perfectly captured the hopes and dreams of post-war America, asking, "What better metaphor for life under Joseph McCarthy's rigid witch-hunting regime than a style of painting in which you had to stay carefully within the lines?"
The current fad of celebrity lip-syncing echoes paint-by-numbers, with artists going through the motions and giving the audience what they expect is coming. (See also: movie remakes and reboots.)
What's more, lip-syncing gives famous people a chance to be relatable ("they're just like us!") and aspirational (even celebrities wish to be like other famous people). But long before this celebrity parlor game was a TV staple, lip-syncing was featured in some famous movie scenes. There are roughly 11 categories of celebrity lip syncing scenes:
1. The Creepy-Ass Lip Sync
Dean Stockwell belongs in some hall-of-fame for this unnerving performance of Roy Orbison's "In Dreams" from Blue Velvet. The creep-factor is upgraded by Dennis Hopper's mesmerized reverence and Brad Dourif dancing with a snake. (See also: Mulholland Drive, where David Lynch features some almost grotesque sing-along numbers in the movie within a movie.)
And of course, we can thank Reservoir Dogs for making us all shudder whenever Stealers Wheel's "Stuck in the Middle With You" comes on the classic rock station.
---
2. The Irreverent/Sexually Frustrated Teen Lip Sync
If there's one thing John Hughes got right about smart-ass teens of the '80s, it's that they best express themselves through lip-sync. Whether it's Ferris Bueller in the Von Steuben Day parade or Ducky serenading a girl out of his league, mouthing along to music is a go-to device. Of course, Ducky's infamous performance comes off as uncomfortable cultural appropriation today, which brings us to…
---
3. The Racially Problematic Lip Sync
Preston Sturges' films were known for rapid-fire comic dialogue, but he wasn't above a good synchronization gag. In The Miracle of Morgan's Creek, Trudy Kockenlocker (actress Betty Hutton) presents herself as the singer of a Paul Robeson-esque song. This 1944 film helped pave the way for generations of white people imitating black artists.
---
4. The Candid Moment Lip Sync
Most movies won't show the hero masturbating to his beloved (well, except for Fast Times at Ridgemont High, of course) — so what's the next best humiliating solo act? Lip-syncing to sappy songs. Extra credit if the character is "caught in the act." The opening song from Just Friends features Ryan Reynolds in an Eddie Murphy style fat-suit mock crooning to the All-4-One classic "I Swear."
Then of course there's Tom Cruise's infamous underwear lip-sync from Risky Business…
Which became so popular, it was parodied by ALF…
See also: Hugh Grant's lovelorn Prime Minister dancing to The Pointer Sisters' "Jump (for My Love)" in Love, Actually.
---
5. The Group Car Ride Lip Sync
What starts as a singalong turns into a lip sync with Wayne and Garth mouthing the final chorus of "Bohemian Rhapsody" to each other. As many karaoke singers have discovered, it's quite a long song.
---
6. The Flirtatious Duet Lip Sync
Is there anything more playful (in a PG-13 sort of way) than a man and woman moving their mouths to the radio while making eyes at each other? That flirty chemistry is best captured by Patrick Swayze and Jennifer Grey moving to "Oh, Baby" in Dirty Dancing.
See also: Bill Hader and Kristen Wiig lip-syncing to Jefferson Starship in The Skeleton Twins. (Yes, we know they're brother and sister.)
---
7. The Celebrity Impersonating Another Celebrity Lip Sync
Behold, the very rare meta-lip-sync. Jim Carrey imitates Andy Kaufman playing along as Mighty Mouse in a routine from the first episode of Saturday Night Live in 1975.
---
8. The "We Sure Had Fun Making This Movie" Lip Sync
For years the closing-credits blooper reel was the filmmakers' way to tell the audience, "Lighten up! Even if you didn't enjoy watching this movie we had a ball making it!" (See The Cannonball Run or Liar, Liar.) In 1998, the Farrelly Brothers upped the ante by combining an outtakes reel with a musical number. There's Something About Mary ends with the cast and crew goofing around and lip-syncing to The Foundations" "Build Me Up Buttercup."
---
9. The Lip Sync as Seduction
Here we have Wayne's World's Garth Algar again, using the '70s classic "Foxy Lady" to put the moves on his dream woman.
---
10. The Angry Lip Sync
Jennifer Lawrence mixes angry cleaning with angry lip syncing (and a little angry singing) in this memorable scene from American Hustle. She also channeled Santana in a deleted lip sync to "Evil Ways" that plays as more "comedic actor moment" than "spurned suburban housewife."
---
11. The Lip Sync as Lip Sync
Finally, sometimes a lip sync scene is just a lip sync scene. For instance, there's Toni Collette and Rachel Griffiths (above) performing "Waterloo" in a lip sync competition in Muriel's Wedding.
And here's Terence Stamp, Hugo Weaving and Guy Pearce performing "I Will Survive" and the '90s dance club staple "Finally" in The Adventures of Priscilla, Queen of the Desert.