The 10 Best Comedy Songs of 2015 (So Far)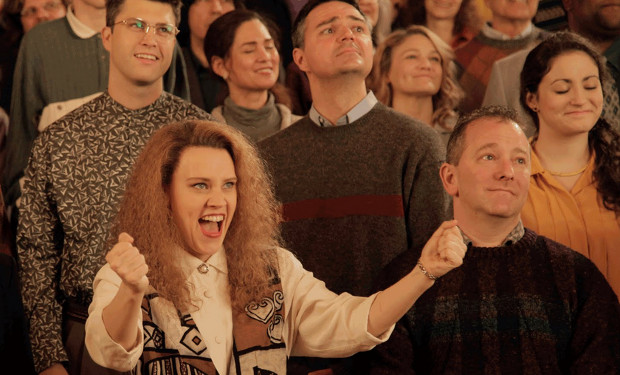 Posted by Brian Steele on
The year is only half over, and we've already had more songs that genuinely tickle our funny bone than we can count. Well, there's ten. I guess we can count to ten, but still. That's a lot. In some ways, thanks to everyone from Tim Heidecker to Hawkeye himself, Jeremy Renner, we're living in the age of the comedy song. To get you ready for College Humor's Comedy Music Hall of Fame, here are a few of our favorites from the last six months.
10. "Scientology (That's The Plan For Me)," Tim Heidecker
Scientology is having a moment, and Tim Heidecker of Tim & Eric wanted a piece of it. Having written a song about the religion back in 2013, inspired by The Kinks, all that required was dusting it off and putting some production value behind it. Never overtly comedic, its subtle weirdness is a perfect expression of Tim Heidecker's comedy.
---
9. Michael Bolton's IRS Serenade, Last Week Tonight
Being British, John Oliver has trouble conveying sincere emotions. Thankfully, he called on Michael Bolton to deliver a stirring ballad dedicated to the Internal Revenue Service.
---
8. "Unbreakable Kimmy Schmidt Songify This!," The Gregory Brothers
The Gregory Brothers created a sitcom theme for the ages for the Netflix hit Unbreakable Kimmy Schmidt, by harkening back to the song that first made them famous.
---
 7. "If Canadians Made a Rap Diss Video," College Humor
The folks at College Humor cooked up the nicest rap diss video ever in time for the Comedy Music Hall of Fame.
---
6. Adam Sandler Sings Farewell Song to David Letterman
Adam Sandler first made his name with a series of silly songs, so it's only fitting that he whip out one more to say goodbye to one of his heroes. Letterman's laughter, particularly at a stray line about Sandler's mother, shows how tickled he is by the whole thing.
---
5. Michael Sheen's Ode to Blade Runner, Reggie Makes Music
It won't be easy saying goodbye to Comedy Bang! Bang!'s Reggie Watts, but we'll always have his web series Reggie Makes Music, in which he improvised bizarre songs with some of the most talented actors and comedians of our time. Here, Michael Sheen pays long overdue respect to the one and only Rutger Hauer.
---
4. Jack Black and Jimmy Fallon Recreate the "More Than Words" Music Video
Jimmy Fallon and Jack Black nail this cover of the Extreme classic, right down to the questionable hairstyle choices.
---
3. Hawkeye (Jeremy Renner) Sings About His Super Powers to the Tune of Ed Sheeran's "Thinking Out Loud"
Hawkeye is everyone's least favorite superhero, and he knows that. At least, that seems to be the case here, judging by Jeremy Renner soulful song about the other talents of the forgotten Avenger. Did you know he's a heck of a bowler, or that he can open a jar of pickles without any help at all?
---
2. Stephen Colbert Debuts New Late Show Theme Song…Sort of
It's time to say hello (again) to Stephen Colbert, new host of The Late Show, with his brand new theme song! Okay, maybe it's not perfect, but he'll figure it out.
---
1. "Neurotology's Always Believe Music Video," SNL
Coming off of HBO's revelatory documentary, Going Clear, SNL took their turn at the Scientology plate with this send up of an actual song recorded by the church. It speaks to the outright insanity of the house that L. Ron Hubbard built that this over the top music video parody isn't really that much more bizarre than the song it's spoofing.