Shia LaBeouf's TED Talk Is Predictably Insane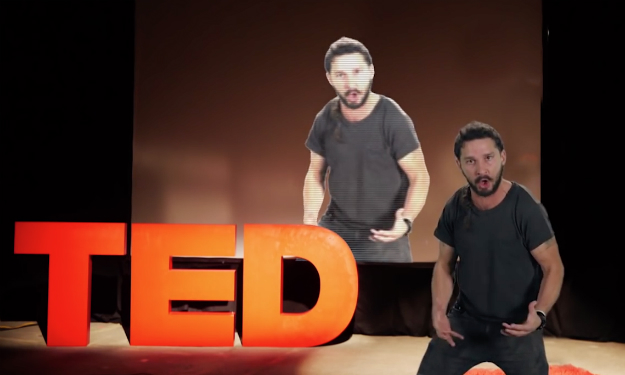 Posted by Nick Romano on
If you ever find yourself holding back, doubting your skills or postponing your dreams, all you need to push ahead to the next step is this video of Shia LaBeouf screaming motivations in your face. He's a man of few words, but when he's losing his shit while sporting one epic rattail, it has more of an effect.
TED Talks is a series of conferences with the slogan "ideas worth spreading," and LaBeouf's idea is definitely worth spreading. Three words: Just. Do. It.
Last week, the always controversial actor tweeted out 30 minutes of footage showing him standing in front of a green screen. YouTube user Michael McNeff then took that, extracted a few key snippets, edited them together, applied some computer magic and created viral gold. This is the same guy who got kicked out of Cabaret for smoking in the theater, chased a homeless man on the street, wore a paper bag over his head to a red carpet event, and tripped on acid in preparation for a movie role. And this stands out against that lengthy resume.
Meanwhile, Leroy Prompakdee used bits of these same segments to make the final scene of Se7en more hilarious and less devastating. No wonder Morgan Freeman couldn't subdue Brad Pitt. LaBeouf was on the sidelines taunting him.