Watch Kung Fury, the Only '80s Film With Dinosaurs and Viking Babes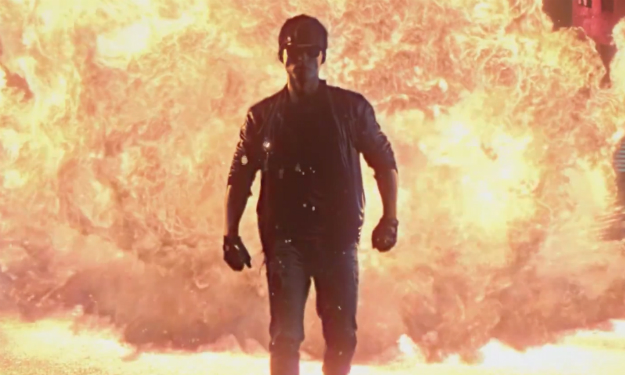 Posted by Nick Romano on
Once upon a time, a prospective Swedish filmmaker by the name of David Sandberg wanted to make the ultimate tribute to '80s cop movies. Driven by his love for the genre, he funded the project through Kickstarter and shot a 30-minute short film with his acting buddies. That short film is Kung Fury, which debuted on TV through the El Rey network. But, for all of you who use the Internet in lieu of cable, here it is in all its glory!
Laser Unicorns wasn't kidding around when they described it as "an over-the-top action comedy." The first few minutes alone are filled with rebellious youths, massive car explosions, an epic battle against a villainous robot, and some sweet walking-away-from-an-explosion moves. Despite all of this chaos, though, the plot is only slightly simpler.
Kung Fury is a cop, and a damn good one at that. When he was chasing a mysterious kung-fu master down an alleyway, the encounter led to his partner's death. After witnessing that tragic event, like right after, Kung Fury was hit by lightning and bit by a cobra, mutating him into a "kung fu freak of nature." He became the chosen one, destined to master the most deadly form of kung fu the world has ever seen. Now he must travel back in time to World War II to stop Adolf Hitler, who is also a kung fu master!
There are also raptors with freakin' laser beams shooting out of their freakin' eyes, some totally bodacious Viking babes carrying machine guns, the mighty Thor descending down from Valhalla, and a triceratops cop. There's seriously everything you could possibly want in an '80s movie. The only thing missing is David Hasselhoff. But wait! The Baywatch star performed in a special music video for Kung Fury, and it's just as incredible as you'd think.