Hey You Guys! Celebrate The Goonies 30th Anniversary With a Weeklong Extravaganza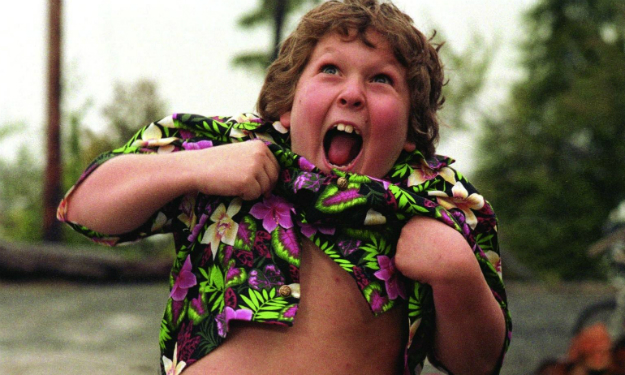 Posted by Nick Romano on
It's time to do the Truffle Shuffle because The Goonies is turning 30 on June 7th. And what better way than to celebrate the movie that defined a generation of thrill-seeking, treasure-hunting movie lovers than with a weeklong affair in The Goon Docks?
Astoria, Oregon, the small seaside town that served as the setting for this 1985 classic, will play host to approximately 15,000 Goonies fans from around the world. It will be a weeklong festival beginning tomorrow, June 4th, and will feature activities like a One-Eyed Willy scavenger hunt, presentations that go behind-the-scenes of The Goonies, an '80s convention, a sail with Sloth on The Lady Washington, cosmic bowling at Chunk's Bowling Alley, and tours of the filming locations. The full list of events can be found here.
In addition, the festival's official website states that Jeff Cohen, who played Lawrence "Chunk" Cohen in The Goonies, will appear as a special guest. Now all grown up, Cohen lost all the weight that made him a sensation and transformed himself into a hunky entertainment lawyer. He co-founded  Cohen Gardner LLP and wrote a book called The Dealmaker's Ten Commandments: Ten Essential Tools for Business Forged in the Trenches of Hollywood. Cohen will be on hand in The Goon Docks to sign autographs and share stories from the good ol' days, which makes us wanna do the Truffle Shuffle in public.
Unfortunately, Richard Donner (director), Steven Spielberg (producer), Chris Columbus (writer), Josh Brolin (Brand), Sean Astin (Mikey), Corey Feldman (Mouth), Kerri Green (Andy), Martha Plimpton (Stef), Jonathan Ke Quan (Data) and John Matuszak (Sloth) won't be making an appearance. And with a sequel looking less and less likely to happen, we can only hope the 30th anniversary will inspire more Goonies reunions.