Women Don't Understand Goodfellas? Don't Make Us Laugh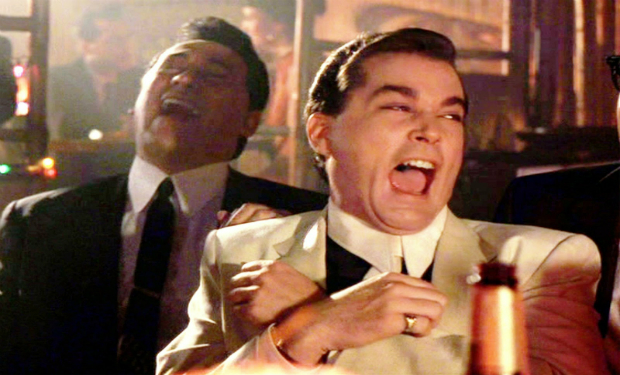 Posted by Cher Martinetti on
I'll be honest, I never intentionally read the NY Post if I can help it. But this morning I, like everyone else on the Internet, was made aware of the ridiculous proclamations that writer Kyle Smith made about how women will never understand Goodfellas. Something about it being a "male fantasy" BroRomCom like Entourage or whatever. Throw in the obligatory mention of the Rat Pack and a word like "floozies," and the stage is perfectly set for some empty-suit, white-bread wannabe to puff up his chest while sharing some fan-fiction about him relating to a bunch of hyper-masculine wise-guys in a mob flick. I can practically hear the mispronounced Italian curse words from here.
I've seen Goodfellas so many times that I've lost count. It's one of those movies, like The Godfather, that is practically mandatory viewing if your last name ends in a vowel. Sure there are many Italian-Americans that will be quick to lambast the negative stereotype that "all Italians must be in the Mafia" (to which we all say no, because every Italian's been taught since childhood the correct reply is "there's no such thing as the Mafia." After all, nobody likes a rat).
But my favorite part about Goodfellas, and all Mafia movies, is the side-effect it has on non-Italians, specifically the guys. It's amusing when someone, who is about as Italian as the slice of Papa John's pizza they probably just ate, suddenly thinks they're the premiere authority on Goodfellas. I suddenly feel like Wesley Snipes in White Men Can't Jump when he explains to Woody Harrelson that he can listen to Jimi Hendrix, but he can't hear it; sure you can watch Goodfellas, but you can't see it.
I know I have the biological handicap of owning a pair of ovaries and all, but even I know that there's nothing about Goodfellas that is remotely like Entourage. Of course, I don't have bro-goggles, so that may be the problem as we've obviously seen two completely different movies. We can't all be winners.
Smith claims that women don't understand the movie because they don't understand the supposedly exclusively male art of "ball-busting." I'm not sure if it's something in the diets of Italian children, maybe a secret ingredient in our grandmother's sauce, or if it's just part of our DNA that gives us this gift. But I can assure you, it's one that is equally bestowed on both genders. Trust me.
If one is to reduce this movie to being simply about "ball-busting," then let's give credit where it's due. A large percentage of the dialogue was improvised by the predominantly Italian-American cast, including the infamous "Do I amuse you?" rant by Joe Pesci. And Lorraine Bracco, who is the only female lead in the movie, went toe-to-toe with the male dominated cast with ease because she's an Italian chick from Brooklyn; biting sarcasm with an attitude is practically the native language.
And I don't mean to speak on behalf of all women here, but I'm going to go out on a limb and suggest that maybe the people we think are lowlifes are the guys who decide what we can and can't "understand," as if our tiny little brains are flooded with so much estrogen that we can't possibly relate to anything other than boyfriend problems and shoes. By the way, as a female writer living in NYC, I'm not deluded enough to buy into Carrie Bradshaw's fictional fairytale of $500 shoes and fabulous rent-controlled apartment, despite me being a silly girl and all.
Now don't misunderstand, anyone can watch and enjoy Goodfellas. Clearly millions of people have and do. But if we're going to be assigning ownership or staking claim as to who "understands it" best, I'm going to have to pull rank here. I'm pretty sure I meet the imaginary minimum vowel requirement in my name and I'm definitely sure I have the shady familial connections, and both of those requirements cancel out my unfortunate circumstances of being a "chick."
P.S. Just because you have balls and watched Goodfellas doesn't mean you can bust-balls. Get the f-ck outta here.
Cher Martinetti is a NYC-based writer who writes for IFC, Cracked, and Blastr. Follow her on Twitter where she's occasionally funny by accident and/or tweeting about her dogs.