Chuck Palahniuk Reading 'Fight Club 4 Kids' Is Pretty Hardcore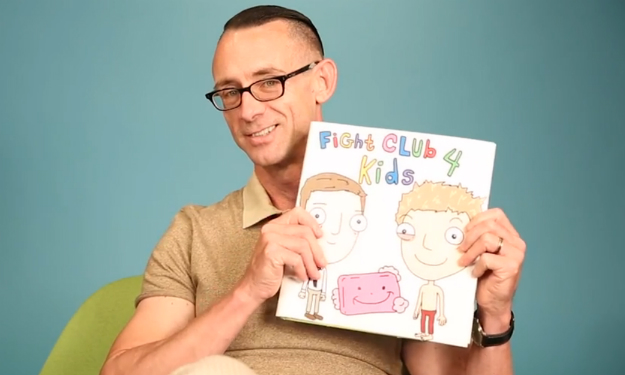 Posted by Nick Romano on
There's a growing trend in the entertainment industry. It's a trend that seeks to reintroduce classic films and properties to whole new generations. Fight Club author Chuck Palahniuk recognizes this. With his fan base growing older and, well, dying off, he wants to do the same with his classic story about a guy with no name who befriends another who may not be there, and the two start a Horsing Around Club. That brings us to Fight Club for kids, a spoof book that re-envisions Palahniuk's classic tale into a picture book for the lil' tykes in your life.
Watch Palahniuk read an excerpt. Even though it's brief, he quickly starts cussing like crazy.
Just to confirm, Fight Club 4 Kids is not a real children's book. Although, it does look like it'd make a great addition to the front tables at Urban Outfitters across America. Nevertheless, Palahniuk went over to the Mashable headquarters to read the story of his most famous work.
It's not easy to adapt something as bloody or disturbing or twisted as Fight Club for a much younger crowd. While the acclaimed writer certainly makes an effort, it quickly devolves into No Name beating the crap out of Jared Leto and leaving the model-esque actor in a pile of his own blood looking like a "purple, bloated, chewed up, bubble gum-looking motherf***er." And they all lived happily ever after…for some reason.
It's hard to separate this story from the film version directed by David Fincher and starring Edward Norton, Brad Pitt, Helena Bonham Carter and, yes, the beaten-to-a-pulp Leto. But, as Palahniuk just demonstrated (minus the bad case of sailor's mouth), there is a way to talk about the content of this film in front of your kids. You just have to swap out the brutality as "daddy and his buddies' horsing around time."
Now let's see Hollywood try to remake the film. You can practically hear some hack director somewhere go, "challenge accepted!"