The Rock to Board the Porkchop Express for Big Trouble In Little China Remake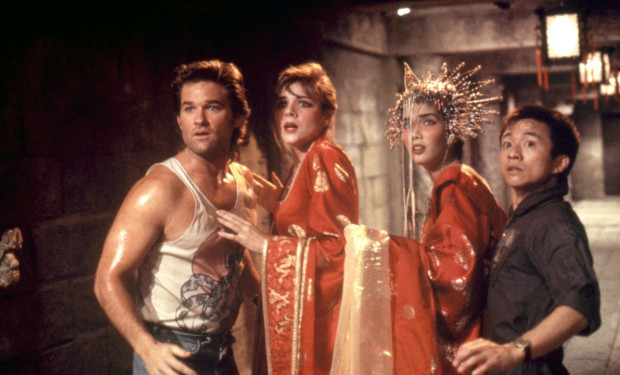 Posted by Nick Romano on
The current cultural climate of remaking classic films is physically unbearable at times, but The Rock is here to make this genre a whole lot more enjoyable. Dwayne Johnson is in talks to lead the upcoming remake of Big Trouble in Little China, the action movie made famous by Kurt Russell and director John Carpenter. Can we all just collectively decide that Johnson should star in everything from now on? Except for San Andreas. No one needs more of that.
The news of Johnson's involvement was reported by The Hollywood Reporter and The Wrap, both of which say Johnson is in talks to join the film as a producer and the star. And in other news, there's going to be a Big Trouble in Little China remake!
The original film was a cult hit, starring Russell as Jack Burton, an all-American trucker manning the Pork Chop Express who gets wrapped up in a centuries-old mystical battle in Chinatown. "They told him to go to hell, and that's just where he's going." There's a lot more awesome lines like that in the film.
The Rock would succeed the actor in this role, though presumably it'll be updated just a bit more for modern audiences. Because we all know Millennials won't understand what the heck is going on if there's not a reference to Sia or if Burton's truck isn't a fuel-efficient hybrid.
Johnson has been killing it lately — with the exception of San Andreas. He's starring in his own HBO series called Ballers, he has a role in Disney's Hawaiian-themed Frozen follow-up Moana, and he's set to star as the DC comics villain Black Adam in the Shazam movie in 2019. There's no better person to play Burton than this uber-masculine, incredibly lovable former wrestling champ with a heart of gold.
Well, except for Kurt Russell. Hopefully he'll at least show up in a cameo. And can John Carpenter return to direct? The following GIF expresses our feelings about the possibility of a Carpenter/Russell return: