Hey, '90s Kids! Watch Bette Midler Resurrect 'Hocus Pocus' in Concert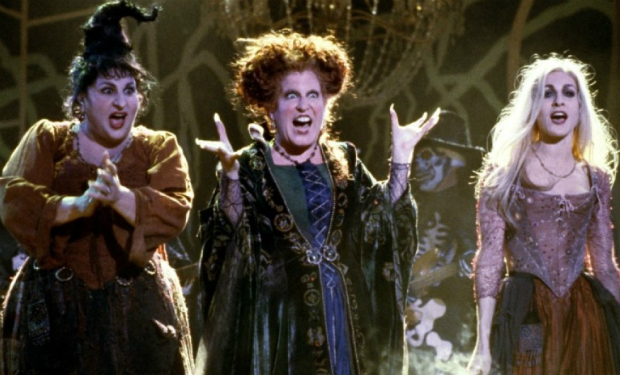 Posted by Nick Romano on
Disney is still dragging their feet with the rumored Hocus Pocus 2. And while all the reports suggest it may never happen at this point, the most conniving witch of them all, Winifred, is back and there's hell to pay. While stopping at Phoenix, Arizona for her Divine Intervention concert tour, Bette Midler reprised her famous Hocus Pocus role on stage for a rendition of "I Put A Spell On You."
Watch her work her magic in the video below.
Divine Intervention is Midler's first tour in about 10 years, and she's sparing no expense in bringing the wow factor. After the backdrop revealed a stormy night over the spooky cabin of the Sanderson sisters and the orchestra performed a medley of themes from Hocus Pocus, Midler emerged dressed in costume — big, red hair and all. Too bad Sarah Jessica Parker and Kathy Najimy weren't there, but Midler was quickly joined by her Harlettes, who sang backup as Sarah and Mary.
"I'm ready for my sequel, Mr. Disney!," she exclaimed. A sequel to Hocus Pocus was rumored a while back when a report emerged claiming the star of 30 Rock and one-half of the best Golden Globes presenter team, Tina Fey, was busy working on it. However, it proved to be just as likely as Princess Diaries 3. In other words, non-existant. Fey quickly clarified that she is not working on Hocus Pocus 2, but rather a different witchy comedy. It would've been difficult to imagine a sequel, anyway, given how all three of the sisters exploded in the light of the morning after Halloween. With the current trend in Hollywood being straight-up reboots of classic films (see upcoming reboots of Gremlins, Stargate and Big Trouble in Little China, to name a mere few), it's likely we will get a reinterpretation or even a Broadway musical for Hocus Pocus before we get a sequel.
For now, we have NewNowNext to thank for this exciting gem.