A Definitive, Inarguable Ranking of Every Weird Al Album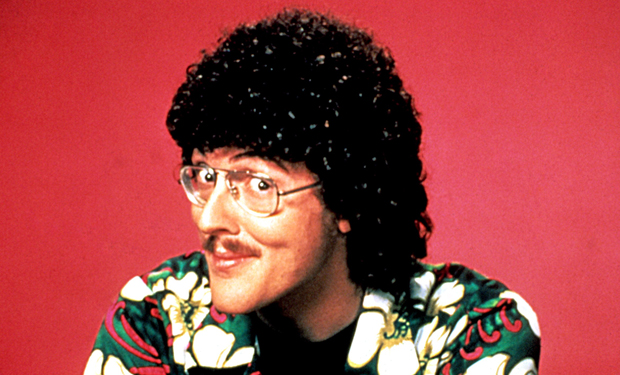 Posted by K Thor Jensen on
No comedy musician has sustained a career with the relentless furor of "Weird Al" Yankovic. For almost 40 years, he's skewered the hits of the day with his trademark nasal voice and pumping accordion. Without him, he wouldn't have the artists featured on CollegeHumor's Comedy Music Hall of Fame. To get you ready for his induction tonight, and because as humans it is in our nature to bring order to chaos, we felt it appropriate to rank Al's entire oeuvre from worst to best for your listening pleasure. Note: This is studio albums only, not compilations or EPs or the Peter and the Wolf collaboration album he did with Wendy Carlos, so don't get sassy.
14. Poodle Hat
The early '00s were a pretty dire time for music, and Al's 2003 release Poodle Hat reflects that with an uneven album of rap rock and Avril Lavigne parodies. ("Trash Day," a tepid spoof of Nelly's "Hot in Here," includes lines like "There's something rotten here/you better hold your nose.") The disc's only single, "eBay," was a flaccid Backstreet Boys parody, and it's one of only three Weird Al releases to not go gold on the Billboard charts. The only high point is the polka medley, which includes an unforgettable bit of "Chop Suey" by System of a Down.
---
13. Polka Party!
Al had his first commercial misstep with this 1986 release, which featured formulaic takes on a number of mid-'80s hits. His record company insisted he spoof another artist on the label for the album's single, so we got the James Brown riff "Living With A Hernia." When the album flopped, Al thought it was going to be the end of his career.
---
12. Running With Scissors
Al bailed from long-time label Scotti Brothers at the end of the '90s after his career was in a tailspin, but it wasn't enough to save this disappointing disc. 1999's Running With Scissors seems like a rush job, with the geek-pandering "The Saga Begins" (set to the tune of "American Pie") the biggest hit. Again, source material is a problem – when the artists you're parodying include Puff Daddy and the Cherry Poppin' Daddies, your album's gonna suck, daddy-o.
---
11. UHF Soundtrack
Al's 1989 movie effort UHF is a cult classic, but the soundtrack album doesn't fare so well. The Dire Straits/Beverly Hillbillies mash-up is one joke stretched out way too long (and suffers without the video's neat visuals), and the rest of the material hasn't aged well. One track of note is "Isle Thing," Al's first rap parody which spoofs Tone Loc's "Wild Thing."
---
10. Alpocalypse
It took almost five years for Yankovic to put together 2011's Alpocalypse, and taking away the up-to-the- minute nature of his parodies is the kiss of death. This album's not technically "bad," per se, it just doesn't have any real reason to exist. The drama around Lady Gaga's management denying him permission to parody her was more interesting than the song ("Perform This Way") itself. One high point was the variety of animated videos created by Bill Plympton, Liam Lynch and others for many of the tracks.
---
9. "Weird Al" Yankovic
Al's self-titled debut was released in 1983, and while it was a strong offering and featured four singles, it's obvious that this was an artist who hadn't realized his true potential. While the instrumentation is primitive, with the accordion featured on every track, the album has a low-fi charm and presence of an all-time classic ("Another One Rides The Bus") is enough to make it a must-listen.
---
8. Bad Hair Day
"Weird Al" had a hard time adapting to the rapidly-changing face of music in the mid-'90s, but Bad Hair Day is perhaps his best effort from that era. Some of the tracks are forgettable (remember U2's song from the Batman Forever soundtrack? What about Al's dental-themed parody of it?), but the Coolio spoof ("Amish Paradise") pissed off the rapper so much that Al feared for his life.
---
7. Alapalooza
Al's 1993 album came only a year after Off the Deep End, and its rushed quality makes it a bit of a mixed bag. Doing a "Jurassic Park" spoof set to the tune of "MacArthur Park" is pretty genius, but parodies of Billy Ray Cyrus and Talk Soup (oddly enough Al's song was originally intended to be the theme song for the long-running E! clip show) haven't aged very well.
---
6. Straight Outta Lynwood
After a fallow period, Al came roaring back in 2006 with the biggest hit of his career to date, the Chamillionaire parody "White & Nerdy." Tackling R. Kelly's "Trapped In The Closet," a song so ludicrous it almost defies parody, put the album over the top. Boo to James Blunt, who nixed a parody called "You're Pitiful" from the album (listen to it here), but his career is dead now anyway.
---
5. Even Worse
Al went back to the Michael Jackson well with "Fat," and it created one of his most unforgettable videos ever. The rest of the LP is solid as well, with Yankovic hitting his stride with originals like "Stuck in a Closet With Vanna White." Both Prince and George Michael turned him down when he asked for parody rights, making us weep for what could've been.
---
4. Mandatory Fun
Al's 2014 triumph proved that the old dog still has tricks in him. On release, this platter of parodies of everyone from Iggy Azalea to Crosby, Stills & Nash shot to #1 on the Billboard charts – a first for any comedy LP – and the material is wall-to-wall solid. Al sampled from the entire history of pop for this one, nailing Imagine Dragons with the same vigor that he does a nine-minute Cat Stevens spoof.
---
3. Off the Deep End
After a downturn in his popularity post-UHF, Al took a few years and came back stronger than ever with Off the Deep End, satirizing the ludicrousness of the grunge era in classic style. "Smells Like Nirvana" nailed the Seattle sound at the perfect time, and the other parodies nailed '90s stalwarts like NKOTB and MC Hammer.
---
2. Dare to Be Stupid
For all of Al's success since, it's inarguable that his heyday was probably the mid-'80s. His third release, Dare to Be Stupid, has him at the height of his powers. After "Eat It" brought him mainstream fame, Al became more ambitious with the follow-up. The Devo pastiche title track was so good that Mark Mothersbaugh called it "the most beautiful thing I have ever heard." And it gave us "Yoda," the Star Wars spoof that still inspires singalongs at Al's concerts.
---
1. In 3-D
1984 was the moment that "Weird Al" broke through to the collective consciousness, and even 31 years later Weird Al Yankovic In 3-D still holds up. Part of it is due to the source material – Michael Jackson, The Police, Bob Marley – and the rest is due to Al coming in to his own as a confident parodist. This album also marked the first of Yankovic's polka medleys, which would become a staple on every album to come.