5 Movies That Somehow Exist in the Entourage Universe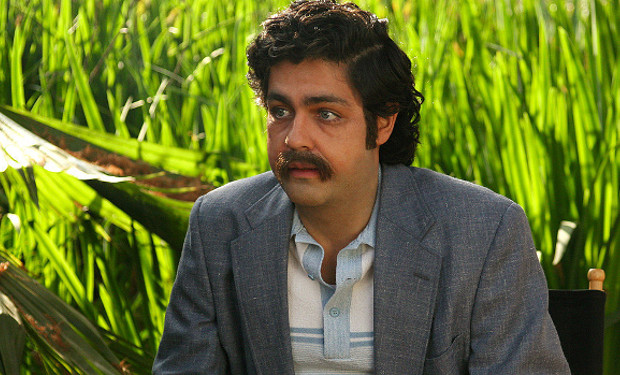 Posted by Nick Nadel on
With the Entourage extended episode, er, movie in theaters, viewers must once again try to make sense of the career of superstar actor Vincent Chase. Part Leonardo DiCaprio, all Adrian Grenier, Vinnie Chase — with his puppy dog eyes and obvious lack of even the most basic of acting skills — at first seemed to symbolize everything that was wrong with superficial Hollywood. Those of us who hate-watched Entourage waited for his inevitable downfall into late night acne cream infomercial purgatory.
Of course, since Entourage quickly became a show where the rich and awful get everything they want, Vinnie continued to fail upwards in spectacular fashion. (He's even directing now with Hyde, a superhero/EDM/Jekyll and Hyde retelling that even the most coked-up of Hollywood studio execs would take a hard pass on.)
Despite numerous scandals (a drug problem, a porn star girlfriend, and didn't Turtle kill a hooker at some point? Honestly, we've blocked out most of the show…), Vinnie always managed to be on the top of Hollywood's casting list. While some projects failed to pan out (Vinnie passed on Disney's Matterhorn because pal/manager/inexplicable ladies man E said the script sucked; hopefully Disney isn't using that draft for the real Matterhorn movie), Vincent still has a resume filled with both comic book blockbusters and prestige flicks that in no way match up to his talent, likeability factor, or constant career ups-and-downs. Here are five movies that somehow exist in the world of Vinnie, Drama, E and Turtle.
5. Head On
Despite being a total Hollywood unknown who had only an episode of JAG, a Mentos commercial, and the forgettable Mandy Moore vehicle A Walk to Remember on his resume, Vincent somehow scored the lead role opposite Jessica Alba in this crime thriller that shares its name with a headache relief balm.
---
4. Ferrari 
Because A-list Hollywood directors can't wait to line up to work with the walking charisma blackhole that is Vinnie Chase, Frank Darabont, who directs a movie once every decade, helmed this biopic where our boy Vin played Italian race car driver Enzo Ferrari. But because he's a true New Yorker/pampered celebrity, Vinnie didn't do his own driving in the film.
---
3. Medellin
Vinnie, looking more like Tony Clifton than a crime lord, starred as Pablo Escobar in this bloated, Scarface-esque epic that even the Entourage writers realized was ridiculous. Miramax chief Harvey Weinstein bought it for a dollar at Cannes and dumped it directly to DVD. Vinnie promptly retreated with Turtle to an island filled with scantily clad babes because, Entourage, bro.
---
2. The Great Gatsby (Martin Scorsese Edition)
Oh, you saw the DiCaprio Great Gatsby? Well, you haven't really experienced the ennui of F. Scott Fitzgerald's classic tale until you've seen Vinnie Chase's acclaimed turn as Nick Carraway in the Martin Scorsese-directed, Gus Van Sant-produced Gatsby. It's a wonder Vinnie didn't win an Oscar for this. Not for his acting talent or anything, just because it would've given Johnny Drama the chance to make tons of hack-y jokes about the Oscar statuette's golden junk.
---
1. Aquaman 
Let's just make this clear right away: Entourage exists in a world where a James Cameron directed Aquaman is one of the top-grossing films of all time. It beat Spider-Man's opening weekend box office take. Oh, and Mandy Moore is Aquagirl and James Woods is the villainous businessman Abaddon, who in the DC Comics universe is a demon so we assume Woods is playing Demon Donald Trump. Ray Liotta and Sharon Stone starred as Aquaman's parents and Seven scribe Andrew Kevin Walker was responsible for the screenplay. If this was 1997, it would possibly be the best/worst comic book film of all time. Oh, and there was a sequel starring Jake Gyllenhaall in the lead role since Vinnie decided to drop out following his break-up with Mandy Moore. The Jason Momoa Aquaman can only hope to be this ridiculous.