10 Reasons Why Schwarzenegger Is The Best Action Star Ever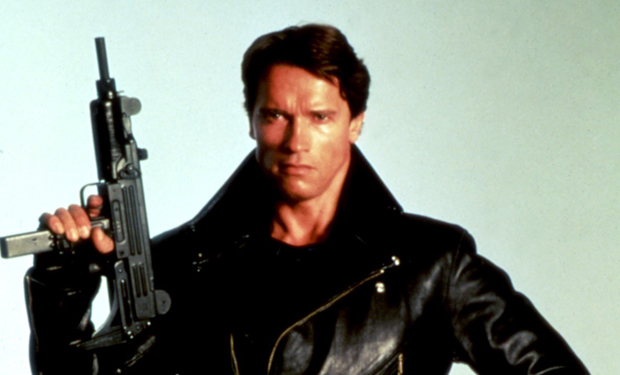 Posted by K Thor Jensen on
Austrian muscleman Arnold Schwarzenegger burst into the movie industry with his lead role in documentary Pumping Iron, and only a few years later became one of the top action stars in the business. What has made the Austrian Oak such a powerhouse in Hollywood? Here are 10 of the reasons he may well be the greatest action star to ever live.
10. He Got Thrown In Jail For Bodybuilding
During his mandatory one year service in the Austrian military, Schwarzenegger competed in and won the title of Junior Mr. Europe. Unfortunately for him, he pumped himself up by going AWOL from basic training, and his superior officers didn't really think much of his explanation.

---
9. He Was The Youngest Mr. Universe Ever
Before Arnold Schwarzenegger could legally drink, he'd already been crowned the most impressive physical specimen in existence. After leaving Austria to study under bodybuilder Reg Park, he threw himself into fitness full-bore, building the muscles that would become his trademark. He won his first Mr. Universe title at 20 and would go on to take the crown three more time.

---
8. He Was On The Dating Game
Like many aspiring actors, Arnold hit the game show circuit to get footage for his reel. In 1973, he appeared on The Dating Game in an unforgettable segment where host Jim Lange gets the bodybuilder to give his measurements to the ladies on the other side of the curtain.

---
7. He Won A Golden Globe In His Third Movie
Stay Hungry, directed by Bob Rafelson, didn't stretch Arnold's acting chops very far – he plays an Austrian bodybuilder training for Mr. Universe. But he was one of the flick's high points, and he got a Golden Globe for Best Acting Debut in a Motion Picture even though it wasn't his actual debut.

---
6. His Body Is On The Cover Of A Grand Funk Railroad Record
The cover of boogie-blues stalwarts Grand Funk Railroad's 1973 platter All The Girls In The World Beware depicts the group as a quartet of super-swole musclemen, but the bodies actually belong to Arnold Schwarzenegger and his fellow bodybuilders Frank Zane and Franco Columbu.

---
5. He (Allegedly) Has Sex Five Times A Day
Okay, this one isn't absolutely confirmed, but it's so badass we had to put it in. According to Tom Arnold, who starred alongside Schwarzenegger in True Lies, one of the secrets to the star's physique is lots and lots of fornication. In an interview with the Daily Star, Tom revealed that Schwarzenegger needed to get his rocks off five times a day… for fitness purposes. I wish I could use that excuse.

---
4. He Owned The First Civilian Humvee
When you're a towering pile of meat and muscle like the Austrian Oak, you can't cram yourself into just any car. That's why General Motors decided that the first private citizen to drive a Hummer H1, the street legal version of the Humvee transport, would be Schwarzenegger. He was given the keys to the first two off of the assembly line in 1992.

---
3. He Saved A Man's Life For Real
In 2004, while swimming off the coast of Maui, Schwarzenegger spotted a fellow tourist on a boogie board having some trouble. The man was cramping up and unable to keep his body afloat, so like a true badass Arnold grabbed his tow rope and dragged the dude 100 yards to shore and safety. Let's remember that he was 57 years old at the time.

---
2. He's In The WWE Hall Of Fame
Bodybuilding and wrestling are kissing cousins, and the Governator has had a long association with the WWE. He first showed up on Smackdown in 1999, aiding Stone Cold Steve Austin by throwing him a steel chair, and he's shown up on multiple occasions since then. In 2015, he was granted a prestigious spot in the federation's Hall of Fame.

---
1. He's Aging Gracefully
Instead of trying to hold on to his chiseled physique through plastic surgery, Arnold is letting time take its toll, and it's just making him more awesome. Now in his sixties, Schwarzenegger is a craggy, wrinkled brick of humanity, perfect for playing the grizzled elder statesman or a Terminator on his way to the scrapheap.