10 Questions We Still Have About The Matrix Trilogy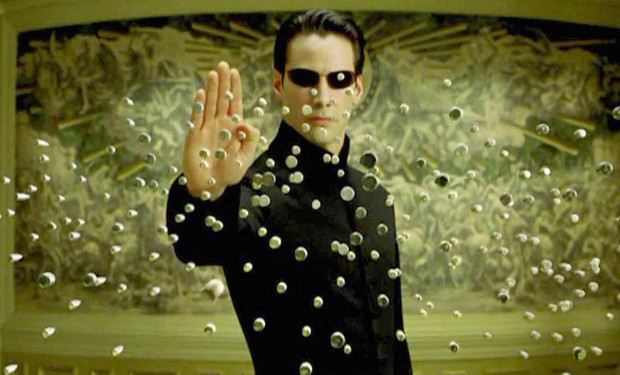 Posted by K Thor Jensen on
Way back in 1999, the Wachowski siblings blew our minds with The Matrix. But over a decade after the last one, The Matrix Revolutions, came out we still have unanswered questions. Let's dive into the cyberverse and puzzle them out.
10. How did Agent Smith leave the Matrix?
The trilogy's primary antagonist is just a relentless piece of code, right? So how does he appear in the "real world" at the end of The Matrix: Reloaded?

---
9. Why don't machines find a better power source?
Keeping human beings alive in pods to siphon their bioelectricity seems super wasteful, so you'd think that the AI of the Matrix would explore geothermal energy or something.

---
8. What happened to the Rogue Programs?
The second and third films introduced other rogue AIs like the Merovingian – what happened to them after the Matrix rebooted?

---
7. How did Neo get to the Train Station?
After disarming the Sentinels in the real world, Neo gets jacked into the Matrix without going through a phone and wakes up in the Train Station. How'd he do that?

---
6. How did Agent Smith get into Bane's body?
We know that programs have avatars inside the Matrix, but when Smith killed hacker Bane and possessed him in the real world, it was a little confusing.

5. If humans had EMP devices, why didn't they use them to take the Matrix offline?
The underground city of Zion was protected against Sentinels by EMP bombs, implying that humans had that technology. Why wouldn't they use it offensively?

---
4. What happens to the Twins?
Sure, their car explodes at the end of the fight in The Matrix: Reloaded, but the dreadlocked albinos survived, only to be never seen again.

---
3. Why did the Oracle tell Neo that he was not "The One?"
Uh, Neo was The One. That was kind of the whole point of everything. So why would she lie to him?

---
2. Why is Seraph's code gold, not green?
The Oracle's bodyguard Seraph is the only human character in the series who appears with a golden aura of "code," and not a green one. What's so special about him?

---
1. Where were the werewolves?
In the movies, the Oracle mentions stories of "vampires, werewolves and aliens" as glitches in the Matrix. How come we never saw any of them?