10 Suggestions For Donald Trump's Campaign Song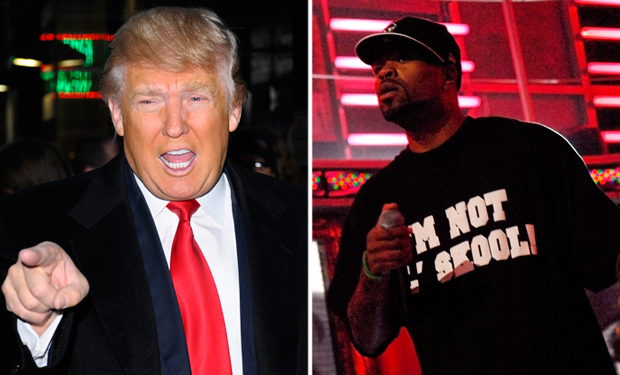 Posted by K Thor Jensen on
One of the toughest tasks for any prospective Presidential candidate is coming up with the perfect campaign song to sum up their vision. Donald Trump got in some trouble this week for using Neil Young's "Rockin' In The Free World" without the CSNY legend's permission, so we thought we'd give him some suggestions for other tracks that might work better.
10. Wu-Tang Clan, "C.R.E.A.M."
While the concept of The Donald hanging out with Method Man and Ghostface is ludicrous, imagine how badass it would be if he adopted "Cash Rules Everything Around Me" as his campaign slogan? It's all about the money, of course, and Trump's going to need every vote out of Shaolin he can get.
---
9. Rae Sremmurd, "Up Like Trump"
Mississippi-born hip-hop duo Rae Sremmurd didn't have any big statements in mind when they recorded "Donald Trump" – in an interview with Complex, they basically just said "That's a cool motherfucker. He's rich as fuck. He has a suit on on a boat." Fair enough, Rae Sremmurd. Though you basically just described The Lonely Island.
---
8. They Might Be Giants, "Purple Toupee"
Trump's hairpiece is the most perplexing piece of his whole puzzle – why would a man so vain and preening wear such a disastrous wig? He could poke a little fun at his image and win some geek voters with this classic track from art-nerd rockers They Might Be Giants. Red and blue do make purple, after all, and Trump'll need the swing votes.
---
7. Nas, "Blaze A 50"
Pundits recently slammed Trump when it was revealed that he paid actors $50 a head to pretend to be supporters and cheer for him at his first campaign rally. The Donald can bounce back from this easily, though – just license Nasty Nas' 2002 track "Blaze A 50" and show the world just how little a paltry fifty bucks means to him.
---
6. The Time, "Donald Trump (Black Version)"
The Time are probably best-known for being Prince's rivals in Purple Rain, but the Man in Purple was behind many of their songs. Case in point, this track from their final album, which was written and mostly performed by Prince with vocals by Morris Day. If Trump wants to reach a more diverse – and hipper – audience, this is the way to go. The song also came out in 1990, so it serves as a reminder that The Donald has been with us a long, long time.
---
5. Wiz Khalifa, "Real Estate"
Trump made and lost his millions primarily in the property market, so why not use that to reach out to an urban demographic courtesy of rapper Wiz Khalifa? "Real Estate" dropped on his The Chronic 2010 mixtape, and perfectly sums up the Trump aesthetic, though with a little more weed smoking.
---
4. ABC, "How To Be A Millionaire"
The essential appeal of Donald Trump is the American dream that you can be a dumb, untalented idiot and still get rich. (Look at the Kardashians…) British new wave band ABC's classic cut "How To Be A Millionaire" could be an anthem for exactly the kind of people who would waste a vote on Trump.
---
3. Mac Miller, "Donald Trump"
Donny, baby, you've already got a rap song about you. Sure, you tried to sue the guy who made it, but I'm sure that's just water under the bridge now. Mac Miller's 2001 track appeared on his Best Day Ever mixtape and it's perfect for Trump's campaign, with lyrics like "take over the world while all these haters gettin' mad."
---
2. Lana Del Rey, "National Anthem"
In a world where Hillary Clinton is making Spotify playlists, Trump needs to get hip. What better way than by picking Lana Del Rey's criticism of ostentatious living? The lyrics are just post-ironic enough for the geriatric set, while those pesky millennials will get the real meaning.
---
1. Hot RS, "Money Runner"
This incredible balls-out disco fusion comes off of a 1980 album by an obscure South African act and it's so ostentatious, tacky and bizarre that it would be perfect for Donald Trump. Ditch the oldies rock and push your image to the max, man. If you're going to win this race, you've got to get a little funkier.