The Worst Marvel Comics Movies Ranked from Awful to Horrendous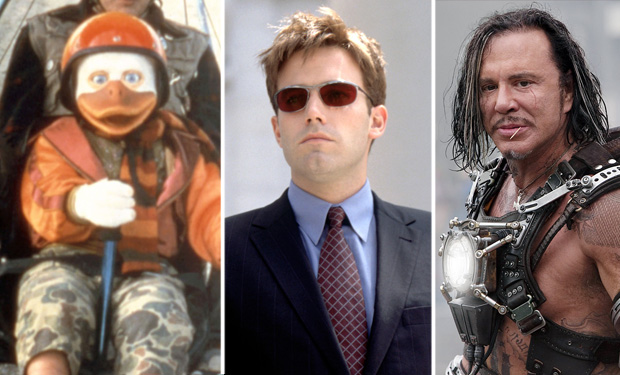 Posted by FIX Staff on
By Nick Nadel and Mike Schuster
With Avengers: Age of Ultron breaking both the Internet and box office records, everyone is patting Marvel on the back and compiling lists of the OMG AWESOMEST MARVEL MOVIES EVER. Of course, there was a time before Marvel could turn a talking raccoon or Ant-Man into bonafide movie stars. A time when they were lucky if B-movie studios or low budget schlock film producers like Roger Corman would return Stan Lee's phone calls. And while we all love Marvel movies now, the road to Age of Ultron is fraught with misfires, stinkers, and Dolph Lundgren vehicles. Read below for the definitive ranking of the worst that Marvel has to offer.
21. Iron Man 2 (2010)
While certainly more watchable than many of the films on this list, Iron Man 2 sticks out as the rotten apple in the Marvel orchard. Overstuffed with plot, Iron Man 2 lacks the snap of its predecessor and feels strained in its attempts to connect to the shared Marvel universe. And the scene where Rhodey just walks into Stark's mansion and takes an Iron Man suit is just dumb. But hey, at least it introduced Scarlett Johansson's Black Widow…and promptly did very little with her.
---
20. Spider-Man 3 (2007) 
To shamefully quote Peter Parker, "Now dig on this": Sam Raimi's third and final installment of his Spider-Man run nearly killed all future chances of seeing the character on the big screen. (And for those who didn't care for Andrew Garfield in the lead role, some wish he did.) Overstuffed with villains, marginalizing Venom, and turning Peter into a gyrating John Travolta, Spider-Man 3 sapped all the fun and thrills from the previous two movies.
---
19. Punisher: War Zone (2008) 
Marginally better than its 2004 predecessor, Punisher War Zone is at least a brutally violent guilty pleasure. But it's still a poor adaptation of characters who are handled much better in Garth Ennis' acclaimed comics. We'll give it some credit though for featuring a scene where Punisher takes out a parkour-happy bad guy with a rocket launcher. (Check out the video above and save yourself some time.)
---
18. X-Men Origins: Wolverine (2009)
This X-Men prequel managed to do the unthinkable: make Wolverine super boring. It also turned everyone's favorite wisecracking assassin Deadpool into a mute freak who looked like a cross between The Slender Man and Baraka from Mortal Kombat.
---
17. Hulk (2003)
Before he was battling Iron Man and flirting with Black Widow, Bruce Banner and his alter ego the Green Goliath were…fighting mutant dogs in Ang Lee's moody 2003 misfire. To be fair, Eric Bana and Jennifer Connelly give solid performances. Unfortunately they're in a movie where Hulk looks like Shrek and Nick Nolte chews more scenery than a giant poodle going to town on a rubber ball.
---
16. The Punisher (2004)
Thomas Jane deserved better than this forgettable adaptation which is mostly just a showcase for John Travolta's scenery chewing bad guy. Thankfully Jane got a second chance to play Frank Castle in the excellent fan film Dirty Laundry. We'd welcome Jane back to the role provided Marvel signs up a director who can bring the ultraviolence and warped humor of Garth Ennis' Punisher comics. Maybe Drive director Nicolas Winding Refn or Oldboy's Chan-wook Park?
---
15. Elektra (2005)
This 2005 Jennifer Garner solo outing attempts to turn the highly skilled assassin from the Daredevil comics into a hero with decidedly bland results. Even Terence Stamp as Stick can't save this snoozefest. We await the character's inevitably bloody and badass introduction on season two of the Daredevil Netflix series.
14. X-Men: The Last Stand (2006)
Super-rushed production? Strike one. New director unfit to the franchise? Strike two. Killing off three fan favorites without the canonical or emotional justification…just 'cause? Strike three. And there were plenty more where that came from. X-Men: The Last Stand is a sloppy, slapdash movie filled with blatant missed opportunities and completely botched execution. But in its defense, if Last Stand didn't force the studio to start from scratch, we wouldn't have the vastly superior X-Men: First Class or Days of Future Past.
---
13. Daredevil (2003)
Who'd have guessed that Netflix would dare take a chance on revisiting the Daredevil character after this 2003 misfire — let alone do it justice? Or that Warner Bros. would still consider Ben Affleck a suitable candidate for another comic book hero? Despite some entertaining elements, like the visual interpretation of Murdock's sonar or the late Michael Clarke Duncan as Kingpin, Daredevil hits cheese overdrive with Colin Farrell's mustache-twirling turn as Bullseye and Matt Murdock and Elektra's embarrassing playground sparring scene.
---
12. Captain America (1990)
A reminder of the days when Marvel would let anyone with a camera and $50 adapt their characters for the big screen, this direct-to-video cheesefest pits Cap against a Red Skull who is an Italian fascist instead of a Nazi for, uh, reasons. Just in case you forgot that it's the early '90s, the movie also has a tacked on pro-environmental message and Ned Beatty in a prominent role. (Ronny Cox and Darren McGavin also appear, making the movie a who's who of grizzled character actors.) Unfortunately Matt Salinger (the real life son of J.D. Salinger) is a charisma blackhole and turns Captain America into a stiff and unlikeable automaton. While shoddily made in every respect, it is fun to think of a time when Cap's biggest onscreen threat was Red Skull's daughter and her Eurotrash friends.
---
11. Ghost Rider (2007)
These days Marvel enlists directors with unique visions like Kenneth Branagh and Joss Whedon to adapt their characters for the big screen. But back in 2007, they weren't making those kinds of creative decisions, which explains how Columbia Pictures was allowed to look at Ghost Rider and go, "Get us the guy who did that Affleck Daredevil movie!" Even Nic Cage's signature line delivery can't save this generic mess of horror and action movie cliches. The only way this movie is any fun is if you pretend that Sam Elliott's Caretaker is the same character he played in The Big Lebowski.
---
10. Fantastic Four: Rise of Silver Surfer (2007)
Comic book adaptations are tricky — what might work on the page doesn't necessarily work on screen. But if your story involves a massive, timeless god who devours worlds, you incorporate a massive, timeless god who devours worlds — not some lame cosmic fog. And while it's a slight improvement over its predecessor, Rise of the Silver Surfer is still a disappointment to hardcore Galactus fans who simply wanted to see a giant man eat a planet.
---
9. Blade: Trinity (2004)
The Blade franchise blew all the goodwill it earned from Guillermo del Toro's creepy second installment with this third outing that relegated its lead character to a supporting role in favor of Jessica Biel and Ryan Reynolds' generic vampire hunters. Snipes' erratic behavior lead to a famously troubled production (according to Patton Oswalt, Snipes insisted on being called "Blade" on set and took to communicating with the cast via Post-It notes) that is far more interesting than what's onscreen.
---
8. Fantastic Four (2005)

Like a slam dunk that hits nothing but rim, 2005's Fantastic Four had the makings of being a crowd-pumping actioner but ended in disappointment. All the joy of seeing Vic Mackey take on Ben Grimm or Reed Richards put Plastic Man to shame was dashed by a dull, lifeless script with corny characterizations and a boring climax. Fingers crossed that the upcoming reboot fixes everything this one broke.
7. Ghost Rider: Spirit of Vengeance (2011)
The Crank directors managed to deliver a sequel that's even more unwatchable than the original. Thankfully Marvel nabbed the rights to Ghost Rider back from Columbia Pictures. Hopefully we'll get a gritty Netflix series where the Spirit of Vengeance doesn't urinate fire.
---
6. The Punisher (1989)
By all accounts, Dolph Lundgren fighting the Yakuza should be awesome. And it's hard to not enjoy the climax where Dolph and Louis Gossett Jr. take down some samurais. But the rest of the movie barely rises above the level of a late '80s Death Wish sequel. Plus, he doesn't even have a skull on his chest. C'mon, guys. The Punisher's outfit isn't that complex.
---
5. Generation X (1996)
Technically a long TV pilot, this teen X-Men team is '90s in the worst possible way. If you've ever wondered what 90210 would look like with cheesy special effects and Matt "Max Headroom" Frewer as the villain, then you must be a FOX executive circa 1996.
---
4. Nick Fury: Agent of S.H.I.E.L.D. (1998)
Before Samuel L. Jackson put his indelible stamp on the character, David Hasselhoff strapped on an eye patch and growled goofy lines ("I'll get that vampire's blood if I have to suck it from her neck!") penned by David Goyer, one of the brains behind the current DC comics movies. Lisa "Real Housewives of Beverly Hills" Rinna costars as Contessa Valentina Allegra de la Fontaine, who helps Fury defeat the forces of Hydra. It's all very Saturday afternoon syndicated '90s TV fare, but it's also a lot more fun than 90% of what happens on Agents of S.H.I.E.L.D.
---
3. Man-Thing (2005) 
Marvel's creepy swamp monster is often unfairly compared to DC's Swamp Thing (Man-Thing actually debuted first) and, sadly, his dreadful movie makes the 1982 Swamp Thing look like The Dark Knight. Hopefully Marvel will redeem the character with the Man-Thing Vs. Howard the Duck movie that we've already greenlit in our mind.
---
2. Howard the Duck (1986)
Before Marvel redeemed him with a surprise post-credits Guardians of the Galaxy cameo, Howard the Duck was a walking, er, waddling punchline that came to represent everything that is wrong with Hollywood. While the movie has earned a cult following over the years, it still scores second place on our list for setting back comic book movies and featuring flagrant scenes of duck nudity.
---
1. The Fantastic Four (1994)
This unreleased Roger Corman-produced crapfest has earned legendary status among bootleg movie collectors thanks to its corny dialogue, wooden acting performances, and special effects that look like they were cooked up by a teenager on a Video Toaster. To add insult to injury, the film was produced and shelved just so that producer Bernd Eichinger (who would later give us the two lackluster Jessica Alba Fantastic Four movies) could retain the rights to the characters. Sadly, no one told the cast — who thought they were starring in the next Batman — that their efforts would forever be resigned to grainy bootlegs traded at comic book conventions.