8 Examples of Great Actors in Terrible Movies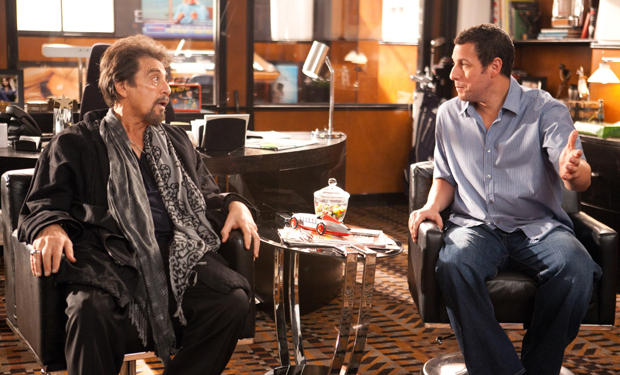 Posted by IFC on
By Jeff Finkle
Who knows why great actors agree to appear in awful movies? It could be because they put blind faith in a director, or they don't bother to read the script until they show up on set. Or, more likely the answer is that divorces are expensive or they lost a few million to Adam Sandler in poker. In honor of this week's Comedy Bang! Bang! guest Michael Sheen, here's a look at what happens when bad movies happen to great actors.
1. Laurence Olivier, The Jazz Singer (1980)
What do you do after spending your life becoming the greatest interpreter of Shakespeare the stage has ever known and earning a name that becomes synonymous with the craft of acting? You take on the only acting challenge you have left, playing the strict Cantor father to Neil Diamond's rebellious singer son. As in the original 1927 classic "talkie," Diamond's aspiring songwriter does unfortunately wear blackface in order to perform on stage. In this ill-conceived 1980 remake, Diamond forsakes his hard-ass father and his religion so he can go to L.A., shack up with a shiksa and fulfill his destiny by singing "Love on The Rocks." After playing a Nazi dentist who tortures Dustin Hoffman in The Marathon Man, perhaps Olivier thought he owed it to the Jewish people to play Neil Diamond's Papa.
---
2. Michael Caine, Jaws: The Revenge (1987)
There's no debating that Michael Caine is one of the all-time greatest actors. It's also not debatable that Jaws: The Revenge is one of the worst movies ever made. Apparently killer sharks are a lot like Michael Caine's career — they never, ever stop. Not unlike like Phil Collins, Michael Caine was seemingly everywhere in the '80s, and regrettably for him, he chose to be upstaged by an animatronic shark. By the fourth installment of Jaws, this shark was more laughable than frightening. When later asked if he had actually scene the movie, Caine would famously remark, "I have never seen it [the film], but by all accounts it is terrible. However, I have seen the house that it built, and it is terrific!"
---
3. Michael Sheen, The Twilight Saga (2009-2012)
Michael Sheen has built an excellent career, as an actor in both England and America, and you can't totally blame him for wanting to be a part of a mammoth blockbuster like Twilight. Anyone watching these movies without Twi-hard goggles would surely root for Aro to kill Edward for being such a whiny, boring vampire. (Sheen was once a Lycan in the Underworld films and Lycans hate mopey vampires.) Michael Sheen brought some campy energy and a great cackle of a laugh to this lifeless teen romance disguised as a vampire fantasy film.
---
4. Bill Nighy, I, Frankenstein (2014)
I, Frankenstein tried to reinvent the monster movie by turning Frankenstein into a bad ass super hero, but in the words of the late, great Phil Hartman, "FIRE BAD!," and so was I, Frankenstein. British actor Bill Nighy did get to play a demon prince/billionaire in this story, but even his gravitas couldn't save this critically panned film. Apparently, the world isn't ready for a Frankenstein with great abs. One can only imagine Bill Nighy talking to his agent as his character from Love, Actually and saying "What have you gotten me into?" before taking a drink and peeing on his copy of the script.
5. Robert De Niro, The Bagman (2014)
There are bad movies and then there is the rare bad movie that is so bad that you wonder how it ever became a concept, much less made. The Bagman is such a movie. The Bagman is so bad, both Siskel and Ebert are surely rolling over to write reviews from the grave. This is the low budget film that should have been a no-budget film. John Cusack is in almost every minute of the film and plays a mob bagman waiting at a seedy motel for a delivery from De Niro's character. Let's just say, the mystery isn't what's in the bag, it's who talked both Cusack and De Niro into appearing in this wanna-be Pulp Fiction neo-noir mess.
---
6. Al Pacino, Jack and Jill (2011)
It takes a special kind of film to win in every category at the Golden Raspberries, and Adam Sandler's attempt to "Out-Sandler" himself reaches its peak with Jack and Jill. In terms of Sandler movies, Jack and Jill makes Little Nicky look like Billy Madison. Adam Sandler and Adam Sandler star in this heartwarming tale of a man and his "identical" twin sister reunited for Thanksgiving. You have to hand it to Sandler; he somehow convinced Al Pacino to perform a hip hop ode to the Dunkin Donuts Dunkaccino.
---
7. Ben Kingsley, The Love Guru (2008)
It's an understatement to say that legendary actor Ben Kingsley has great range, and you would think that casting the actor who formerly played Gandhi as Mike Myers' Indian mentor, Guru Tugginmypudha, would be comedy gold. But, alas that is not the case with The Love Guru. Myers' Guru Pitka is like a character that was written out of Austin Powers: Goldmember at the last minute for being too culturally insensitive.
---
8. Forrest Whitaker, Battlefield Earth (2000)
It's tough to find anything more unintentionally funny than seeing John Travolta and Forrest Whitaker, looking like a bizarre cross between Star Trek's Worf and the Cowardly Lion, in Battlefield Earth. John Travolta waited years to make Battlefield Earth, based on the L. Ron Hubbard novel, and he spent millions of his own money to get it made. He's lucky he wasn't forced to pay back every person who actually paid to see this historically bad movie in the theater. It's a testament to Forrest Whitaker's impressive body of work as an actor that Battlefield Earth was just a blip in his career and it's a testament to Travolta's agent that he was able to ever get paid to act again. Fun fact: This movie held the record for most Razzie wins, until Sandler's Jack and Jill knocked them off their pedestal.