Top 10 Letterman Clips That Won't Be on Anyone Else's Top 10 Lists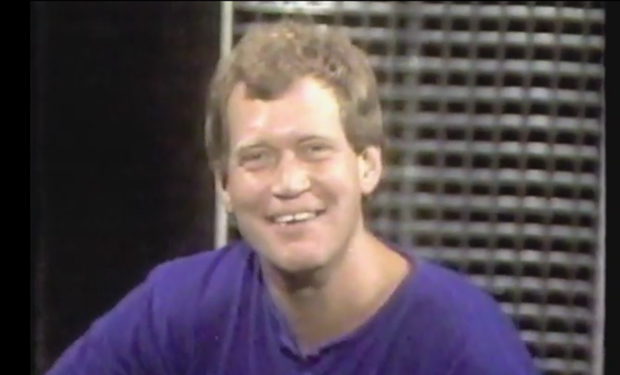 Posted by Andy Hunsaker on
David Letterman's retirement has prompted all sorts of tributes, and you'll see a lot of the same moments referenced as the highlights of his career – the 9/11 return, the heart surgery, Drew Barrymore's boobs, and so on. Those are all great moments, but this guy was churning out comedy on TV for a really long time – we're talking 33 years of Dave here – and on a daily basis, no less. There are a lot more fun Dave moments than you're seeing on all the "Best Of" lists, so let's dig into some of the more obscure ones, shall we?
10. Big Red
Erstwhile announcer Alan Kalter is always game for anything, no matter how absurd. Randomly breaking out into song, throwing crazy shouting fits at Dave, and being a complete sleaze to Dick Cheney's wife, Britney Spears, or Nancy Pelosi. Here he is putting the Big Red Moves on Barbara Walters.

---
9. The Morning Show
No, not The Dave Letterman Show, the short-lived morning program that Dave actually did back in 1980. The cancellation of that show might have left a sour taste in Dave's mouth, resulting in this parody shtick giving him a co-host in Tawny Harper Reynolds and featuring Larry "Bud" Melman as a traffic reporter. This riff on shallow daytime gabfests would later return on CBS with occasional references to "seeing what's coming up on the Weekend Late Show with Bruce & Linda," then cutting to two strangers talking about meaningless drivel.

---
8. Pissed or Not Pissed
This wasn't even on his own show, although technically it was the show he created. On the early days of Late Night with Conan O'Brien, Dave waltzed over from CBS to his old stamping grounds to steamroll the end of Conan's interview with Joan Collins to confront her about reports that she's angry with him.

---
7. Tina Turner Turns Tuna with a Tuna Turner
It's exactly what it sounds like.

---
6. Gerard Mulligan as Everybody
Longtime writer Gerard Mulligan always gave us those "what the hell is going on here?" laughs when Dave would build up to having a very important guest, and it would turn out to be him cracking wise like a bombastic weirdo. Here he is as Hilary Clinton.

5. Lyle the Intern
This guy. You may know Jimmi Simpson from House of Cards, but before that, he had a hilariously weird recurring role as this too-cool-for-school d-bag who had the run of the Ed Sullivan Theater.

---
4. The Summertime Sunshine Happy Hour
In 1985, Late Night assumed the form of a variety show, not unlike the kind he used to work on back in the 1970s, when he and Michael Keaton wrote and danced for Mary Tyler Moore, footage of which is still able to make Dave climb under his desk in embarrassment. He might have had some chintzy demons to work out about that experience, since it traumatized him so much that he was afraid to ever host Saturday Night Live.

---
3. Pat & Kenny Read Oprah Transcripts
Veteran Late Show stagehands Pat Farmer and Kenny Sheehan provided a tour-de-force in entertainment by re-enacting important episodes of The Oprah Winfrey Show. Their emotional performances will bring you to tears.

---
2. Pro-Union Dave
Dave's always been a friend of the workin' man. Most of us remember the grizzled old beard he grew to support the writers' strike, but fewer will recall the National Association of Broadcast Employees and Technicians strike from 1987, which resulted in an amusingly meta bit of comedy showing just how difficult it is to do a field piece with scabs instead of the rightful crew.

---
1. Joe Piscopo
As Dave always says, Number 1 on the Top Ten List is never funny. Thus, the ex-SNL star's Letterman impression being used to shill for casinos fits the bill by being the polar opposite of comedy.