A Look Back at the Funniest Moments on Mad Men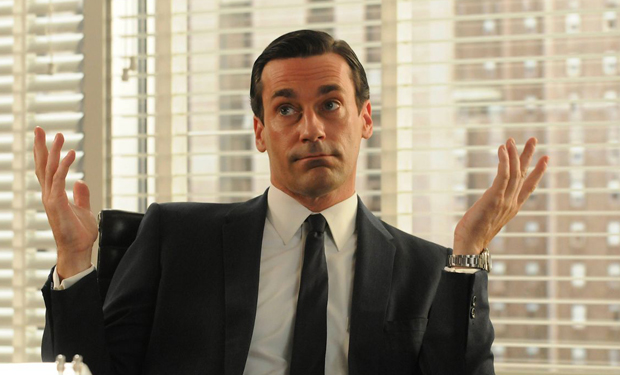 Posted by Mike Schuster on
It's the end of an era — bygone or not. This Sunday marks the final episode of the critically acclaimed, award-gobbling powerhouse Mad Men. Just shy of 100 episodes, the series captured all the major social, political, business, and sexual issues of the '60s and '70s and deftly related them to the topics of today. Without a doubt, Don, Peggy, Roger, Joan, and the rest will be sorely missed and will leave behind a heart-shaped hole in our programming schedules.
But as the seventh season draws to a close, and with it the lives of a few dozen characters as familiar as close family members, we take a look back at the 10 funniest and goofiest moments immortalized in animated GIF form.
10. Peggy's Personal Roller Derby

Backed by a boozy Roger on the organ, an equally tipsy Peggy glides across the frame on a pair of roller skates as carefree as a pixie. Encapsulating the dizzy, grinning state right before passing out, it's the perfect GIF to express a fun and innocent night of binge drinking.
9. Roger Finds a Soulmate

And speaking of drinking, Mad Men did little of anything but. Set in a time when folks washed down their corn flakes with gin, the show was essentially a substance abuse group meeting with a wardrobe budget. And here, Roger finally finds a drinking buddy that could actually keep up.
8. Ken Busts a Move

Feeling the high of a speed-based cocktail, this tap dancing Ken Cosgrove GIF is a delight. Appropriate for caffeine-fueled all-nighters or the tackling a bevy of errands with the energy of a freight train, this image celebrates the elation one feels after finishing all your work for the day.
7. Pete Gets Decked

Second only to Tyrion slapping Joffrey, this GIF of Pete Campbell getting punched nails that cathartic Schadenfreude of seeing a disliked character getting hurt. And after insulting Lane Pryce, cheating on his wife, and being just a general douche, we'd gladly let this image loop more than a few times.
6. Roger Shimmies Down the Hall

With no shortage of stunningly beautiful women on the show, who would've thought the most lithely sensual dance would be delivered by John Slattery? Seductively singing "Frère Jacques" with the passion of a French escort, Roger can clearly hold his own against an office filled with conga-dancing dames.
5. Don's Mock Crying
Got a friend who's complaining about their $80,000 job or having to clean their 3,200-square-foot apartment? Well, here's a GIF that could add a little introspection to their Facebook wall. Succinct and to the point, its only downside would be the image's prevalence in online political arguments.
4. Don's Actual Crying
But as snark gives way to sincerity, occasionally we need a picture that depicts our protective walls crumbling as we surrender to despair. That, and it's pretty funny to see Jon Hamm weeping. Even for someone who oozes cool masculinity out of every pore, sometimes a guy just has to turn on the water works.
3. Pete Takes a Tumble

We all know what it's like to have tempers flare beyond our equilibrium, and this GIF of a furious Pete stumbling down the stairs is a fantastic representation of being "too angry to stand."
2. Roger's Liquid Lunch

Who hasn't overindulged a bit during a work lunch? We can all relate to being a little too tipsy on the way back to the office, right? And how many times have we regurgitated our entire meal and drink orders in front of important clients? Too many to count! So for all of us who've blown multimillion-dollar deals because of one bourbon too many, this GIF's for you!
1. The Lawnmower Reaction

Arguably the most memorable moment in Mad Men's entire run also makes for one fantastic animated GIF. Something as small and incidental as a runaway riding lawnmower driven inside an office can completely change the way a man walks for the rest of his life. It also ain't too pretty for the bystanders drenched with an arterial spray. Still, as horrific surprises go, this one's pretty damn funny.