Could This YouTube Impressionist Replace Harry Shearer on The Simpsons?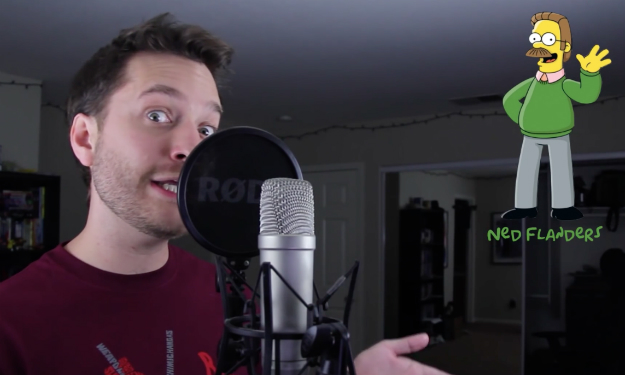 Posted by Nick Romano on
Harry Shearer has left The Simpsons. At least, for the time being. While FOX is still working things out with the beloved voice actor to see if he can return in some capacity, there's a vacancy in the voice cast for the show — a major vacancy. But can one budding voice actor fill his massive shoes? Well, he's sure gonna try.
This is Brock Baker, an L.A.-based voice actor who "drives a car all by himself" and sometimes goes by the self-imposed moniker "the man of a kajillion voices." He wants to replace Shearer on The Simpsons, should he really be gone for good. And to prove his might, Baker has released a video on YouTube showing off his Simpsons imitation skills. Watch and be amazed.
Shearer notably voiced such Simpsons characters as Ned "Howdley Doodley" Flanders, Mr. Burns, Waylon Smithers, news anchor Kent Brockman and the coolest bus driver in town Otto. Baker runs down 14 characters, also including the Schwarzenegger-esque Rainier Wolfcastle, the elderly Jasper Beardley, Lenny, the Mr. Burns alien, Mr. Largo, Scratchy from Itchy & Scratchy, Reverend Lovejoy, George H.W. Bush (which is just a toned down Ned Flanders, really) and Herman.
These are not all the voices Shearer has provided over the years, and Baker knows this. He didn't include all of them because, and he's perfectly transparent here, he couldn't come to close to imitating all of them. Which probably makes his chances of stepping into Shearer's role less than likely. That, and not being a comedy legend with decades of professional acting experience.
Shearer recently tweeted that he's planning to leave The Simpsons after voicing these classic characters for 26 seasons. According to the show's executive producer Al Jean, Shearer was offered the same deal as the other voice actors and he chose to pass. The producers maintain that his characters will continue on the show, and Jean even told Entertainment Weekly that he hopes something will be worked out to bring Shearer back. For Baker's sake, perhaps he'll stay in retirement.