A Ranking of Michael Bay's Most Epic Explosions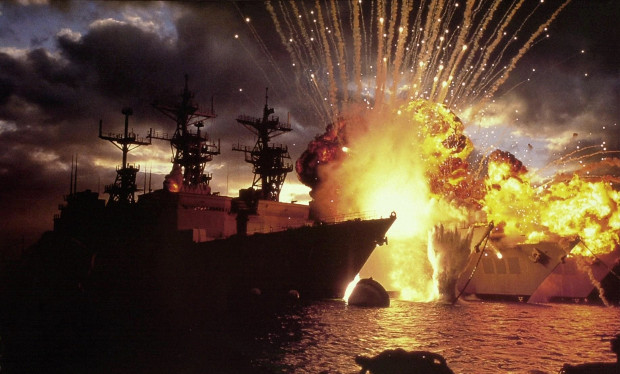 Posted by Nick Romano on
Michael Bay just loves to blow stuff up. It's in his nature. Now we've seen so many explosions over the course of the filmmaker's career that his movies wouldn't be the same without at least one massive display of pyrotechnics. From Armageddon to Pearl Harbor to the Transformers franchise and beyond, Bay has given audiences some of the most spectacularly ridiculous explosions. At this point, they border on the downright absurd.
And like a bottle of wine, a Michael Bay explosion only gets better with age. Looking back on his career and all that his work has wrought, here are the best explosions from this unique mind ranked from worst to best.
8. Bad Boys, Plane Explosion
It's safe to say no one forgot their boarding pass after this scene. Bay couldn't help himself. He just had to include this massive explosion, but it was worth the effort. Now, how do I make the baddies' scream my new ringtone?
---
7. Transformers: Dark of the Moon, Invasion of Chicago
The Decepticons united their forces and waged a full-scale invasion of Chicago, tearing down buildings with the worm-like Driller and mowing down countless more with their floating ships. No wonder everyone in the next installment, Age of Extinction, were so traumatized by the Transformer threat.
---
6. Transformers, Attack on the military base
Think back to the first Transformers movie and remember our first taste of Michael Bay at the helm of this franchise. It came when Blackout attacked a military base and left none alive but a handful of soldiers, including Josh Duhamel's Captain Lennox and Tyrese Gibson's Sergeant Epps. It set the tone for the franchise and assured us that words like "budget" and "subtlety" was not in Bay's vocabulary.
---
5. Bad Boys II, Mansion explosion
Bay set aside a $40 million mansion just so he could blow it up in Bad Boys II. As the New York Post cited, he and producer Jerry Bruckheimer destroyed it within a matter of minutes, and in the most glorious fashion. Limbs flying, people screaming, bazookas blasting…and this is on top of Martin Lawrence and Will Smith shooting rounds upon rounds through its walls.
---
4. Transformers: Age of Extinction, The final showdown
If you thought Dark of the Moon was an explosion of visual effects, Age of Extinction upped the ante even more than we thought it could. It seems like Bay threw everything he possibly could into one movie: gargantuan robots, robot dinosaurs, alien weapons, Mark Wahlberg, car racing and a massive alien invasion complete with inception horn sound effects. Too bad he forgot to include a discernible plot.
---
3. The Rock, Nic Cage's explosion dive
Bay's obsession with military tech and sweet jets began with this Nic Cage/Sean Connery action flick. Even though Cage's FBI agent gives the all-clear, Bay can't help still squeezing in a big explosion — complete with Cage doing a signature Bay "jump away from a massive explosion" — for the end sequence.
---
2. Pearl Harbor, Attack on Pearl Harbor
Bay's new stuff is pretty astounding, but they lack the style of his earlier work. Before most of the technological advancements, the director let his imagination explode all over the screen with the attack on Pearl Harbor that saw massive war ships torn to bits in a matter of seconds and planes falling from the sky to be blown to bits in a fiery blaze.
---
1. Armageddon, Meteor shower
What's more visually explosive than the demolition of major cities via meteors? Paris was wiped out in a single death blow, Grand Central Station in New York was eviscerated by one strategically placed shot, and everyone was forced to watch as The Big Apple was cut down into The Little Apple. No, The Apple Sliver.