Julia Roberts, Gary Coleman and a Monkey: Inside an Epic Collection of Forgotten Movie Posters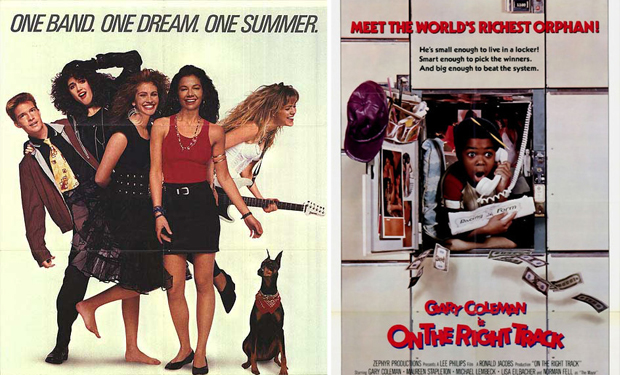 Posted by IFC on
By Michael Colton
Michael Colton writes for film (Penguins of Madagascar) and television (Childrens Hospital). He is also the owner and curator of the only $5 Movie Poster Collection in the known universe, which decorates his office in Los Angeles. (Click images to expand.)
Walk into any producer's office in L.A., and you're likely to see a framed French lithograph of Casablanca, or the original one-sheet for The Godfather. Yawn.
Come to my office and you're greeted with a beat-up poster for Robby Benson's Die Laughing.
I have not seen this film, nor have I ever met anyone who's seen this film. Or even anyone who's heard of this film. Or anyone who can explain why there's a monkey. But that's what you get for five dollars.
I started collecting posters years ago when I lived in Washington, D.C., and a local movie theater went out of business. They gave away a bunch of posters from their storeroom, and I was drawn to the ones from the '70s and '80s, for movies with big stars and directors which are completely forgotten now.
I found more posters at flea markets, then discovered the troves on eBay and other sites. To stave off bankruptcy, I set myself an arbitrary cap of five dollars. Fortunately, that suits the kind of ignored movies that I like (i.e., posters that no one else wants). Like 1977's The Chicken Chronicles, which carries the historic text, "introducing Steven Guttenberg."
Some of these I have a soft spot for because I actually saw them in the theater.
The only thing I remember about Earthbound is that my parents fucking hated it.
This one I like because a young, pre-Pretty Woman Julia Roberts is in the photo, but she's not named in the credits block. (For Liam Neeson it's the other way around.) Also, Justine Bateman is gruesomely airbrushed.
This one, Playing For Keeps, is perhaps my favorite poster.
Why? Oh, I don't know…
Sometimes I organize the posters by genre. For instance, "Unlikely Creatures Playing Sports."
And a "Science Fiction" section: Krull (alien invaders), Spacehunter (hostile planet), Moment by Moment (Lily Tomlin and John Travolta are attracted to each other).
This one appears to be a Cannonball Run knockoff starring Stockard Channing's breasts.
And according to the poster, it was made in 1932.
Can I interest you in a western with Diane Lane and Amanda Plummer?
A scathing satire of our health-care industry starring the Fat Boys and Ralph Bellamy?
A wacky Boy Scout comedy starring Louie Anderson, John Goodman and Richards Lewis and Belzer?
Dyan Cannon's sexy legs wrapped around a future murderer?
It's too bad they never made the sequel, "ROTH."
Phoebe Cates. Panties. Cross-dressing. A perfect poster.
I fell asleep halfway through reading this one.
Two different titles. One inspirational journey.
My introduction to Andy Kaufman.
Of all my posters, Albert Brooks' breakthrough film is the only one that's a genuinely great movie. Don't know how I got this one so cheap.
I keep buying these posters because there's something comforting about them. Knowing that so many movies are utterly forgotten keeps me from getting too precious about my own writing. After all, nobody's perfect.
All photos courtesy of Michael Colton.