Would You Pay to See Coldplay's Game of Thrones Musical?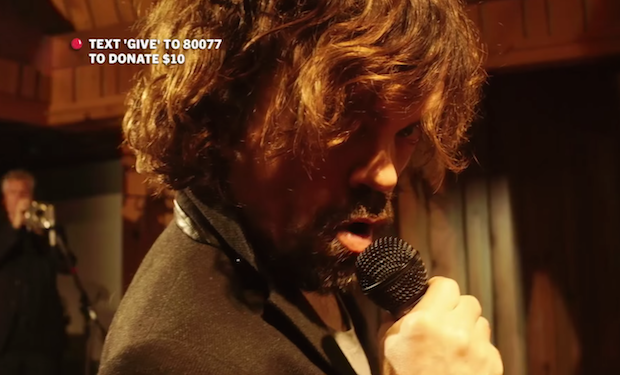 Posted by Mike Schuster on
This week, NBC hosted a star-studded benefit to raise funds and awareness for a variety of children's charities around the world. Taking a cue from Robin Williams' antics in the film Patch Adams, the event was dubbed Red Nose Day and coaxed Twitter users to participate by posting photos of themselves wearing red noses, wherein the Gates Foundation automatically donated $25 to the fund.
In addition to the hashtag game, NBC produced a number of sketches and comedy segments featuring notable names like John Krasinski, Neil Patrick Harris, Jennifer Aniston, Jennifer Garner, Chris Hemsworth, Zach Efron, Reese Witherspoon, and more.
Here are some clips from the event that you should check out:
1. Coldplay's Game of Thrones Musical
With comparisons to Titanic (the boat, not the movie), singer Chris Martin's ode to the HBO hit fantasy series featured Westeros-infused tunes as well as reluctant participation from Game of Thrones stars Emilia Clarke, Peter Dinklage, Kit Harington, and others. While we may never see an actual live performance on Broadway, let's hold out hope for off-off-Broadway.
---
2. Billy Eichner and Martin Short in Billy on the Street
Despite his many roles in TV and film, there are still some very ignorant people who don't know who Martin Short is. And that sad fact was pointed out in a high-decibel manner when Billy Eichner and the SCTV alum took to the streets of New York for another installment of Billy on the Street. And when all was said and done, the lesson was: More people need to watch Three Amigos.
---
3. Ed Sheeran and Kermit Sing Rainbow Connection
For those of us who grew up watching Sesame Street, we already know how easily talking felt can evoke some tears. And if it isn't Ernie singing about living on the moon, then Kermit crooning "Rainbow Connection" is enough to get a little watery eyed. Joining him on guitar this time is singer Ed Sheeran, who received a nice compliment from the amphibian: "Wow, you've got lungs!"