Breaking Bad Creator Vince Gilligan Reveals All (or Some) in His Reddit AMA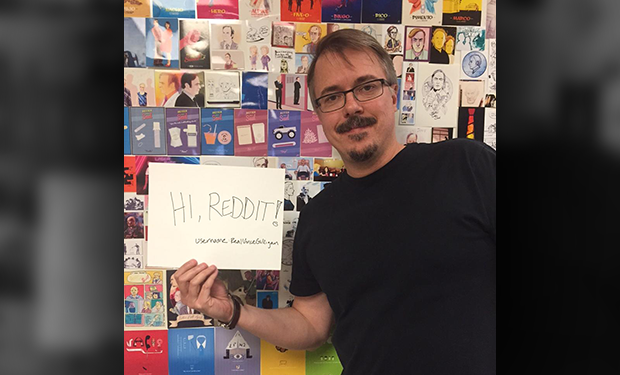 Posted by Mike Schuster on
Breaking Bad creator Vince Gilligan is in between seasons of AMC's Better Call Saul, the Breaking Bad spinoff that's earning even more lavish praise for the creator. Promising more layers, character arcs, and notable cameos from the Walter White universe, Gilligan's new show is solidifying the co-showrunner as the King Midas of Television. And considering diehard devotees would love to hear the inside scoop on his past, current, and future projects, Gilligan took to Reddit for another celebrity installment of "Ask Me Anything."
But rather than scroll through the litany of questions, answers, and comments, here are the most popular answers Vince Gilligan had to offer fans.
1. "Have you ever thought of opening a Los Pollos Hermanos?"
Believe it or not… there is talk of a Pollos Hermanos becoming a real restaurant. This is not an idea that I generated personally. But it's one that's been presented to me, through the good folks at Sony, and the idea came to them from a businessman who has an interest in doing just that.

Speaking for myself, I'd love to see that happen!
---
2. "In casting for Breaking Bad, how close or far was Aaron Paul to your initial vision of Jesse?"

Aaron Paul very much fit the bill of my interpretation of Jesse Pinkman from the get-go. Otherwise we wouldn't have hired him. But having said that, a great deal of Aaron's personality and goodness then became a part of the character of Jesse Pinkman as the show progressed. In other words – we the writers were inspired by Aaron's specific qualities as a human being, and we incorporated many of those qualities into the character of Jesse Pinkman. And we did this with all of the other actors as well – from Bryan Cranston on down. It's a wonderful thing about television – that you can do that. You're telling one story for so long that you have the time to adjust the story, over many episodes and many seasons, as you learn more about your actors. No other medium allows for that. For instance, when you're writing a movie, the script has to be completely finished before production starts, and there's no chance to make those changes as the shooting continues.

---

3. "Is Huell okay?"
That is hilarious!!! I was not aware of that sketch. Thanks for letting me know about it. Yes, I believe Huell is just fine.
---
4. "Did you ever anticipate that the pizza throwing scene would be copied as much as it was?"

No, I never anticipated that the pizza-throwing scene would be one of the "non-submergible" moments of Breaking Bad. None of us did. It seemed like a fun thing to include in the episode at the time, but none of the writers of the series thought it would take on a life of its own. Thank you for asking that question, because it once again gives me the opportunity to say: for any of the folks who wanted to throw pizza on the roof of the White house, it's very unfair to the sweet lady that lives there. Please, please do NOT do it. If you want the photo of a pizza on the White house roof: Photoshop it!!! That's the way to do it in this day in age. You can have any size pizza, and it won't risk this very sweet lady breaking her back getting her ladder out and climbing up to clean pizza off her roof.

---

5. "Out of all the characters that were killed in Breaking Bad which one's death affected you the most?"

I have to say the death of Walter White affected me the most, because what it represented was the end of the story and the completion of this seven year journey we had taken together — the cast, crew, writers and directors of Breaking Bad. That was the most affecting death to write. I actually teared up when I wrote it. I think a close second was the death of Mike Ehrmantraut.

---

6. "George RR Martin commented that he thought 'Walter White is a bigger monster than anyone in Westeros.' What do you think about this comment?"

I take George RR Martin's comment as high praise indeed. I suppose the grass is always greener, because I would put young King Joffrey up against Walter White as far as pure unadulterated evil goes, because he was pretty intense — but I'm glad a writer as talented as George RR Martin is thinking about Breaking Bad in any shape or form!

---

7. "Do you feel like your work gets over-interpreted?"

That's a good question! The short answer is no. That's because I view people interpreting Breaking Bad and Better Call Saul very closely as the highest form of flattery. However, I will admit that a great many of the interpretations that people have of both shows involve details and conclusions which — frankly — I never had in mind. But my opinion is that these shows, once on the air, belong to you the fans as much as they belong to me and those who act and work on the shows, so your reactions are just as valid as mine.

---

8. "Who was the biggest prankster on the set of Breaking Bad?"

Probably Bryan Cranston. He loved to tease Aaron Paul mercilessly. This came about after I told Aaron Paul early in the series that I had planned to kill off his character. From then on, every time a new script came out, Bryan would hurry to read it first so he could put on a sorrowful face and say to Aaron, "Gee buddy, I'm so sorry. You're going out with a bang, at least." And Aaron, God bless him, seemed to fall for it every time.

---

9. "What other characters from Breaking Bad might we see in Better Call Saul?"

Anybody and everybody. The sky's the limit! That's the beauty of this format. The story takes place six years in the past, where all the Breaking Bad characters are alive and well, but that's not to promise that you'll see every character that we introduced in Breaking Bad. We're still feeling our way through Jimmy McGill's format, discovering how and why he becomes Saul Goodman — and in the process, there's any number of directions our story can take. So I couldn't really tell you even if I wanted to who will show up, or when. Better Call Saul is still very much a work in progress.

---

10. "What were your greatest fears in producing a spin-off for Breaking Bad? How did you overcome them?"

Without a doubt, my greatest fear was abject failure — and that is still my greatest fear. Seriously: I was afraid that the show would go on the air and people wouldn't like it, and — worse than that — people would say it sullied their memory of Breaking Bad. But fear is never a reason not to try something. That's what I told myself throughout the months of production and pre-production on Season 1, and that's what I tell myself now. Fear is a good thing — it's the fire in the boiler that drives your locomotive, so to speak. I try to temper the fear with hopefulness, and I try to use it to keep me going, but it's always there no matter how much success I experience. I always feel like the next time around — for instance the next season of Better Call Saul — could be the one when people finally say "This guy sucks." Here's hoping that won't happen. I can tell you for a fact that that fear drives me and Peter Gould to make sure that Season 2 will be every bit as good as Season 1.

---

11. "Why do you think Breaking Bad connected so closely with viewers, to the point where they wished Walter White would have lived?"

I wish I knew! Although, I'm certainly glad viewers did connect with Walter White. In the early days of the series — when I was at my most foolish — I deliberately tried to make Walter White so unlikeable that his behavior would shed viewers. In hindsight, I think that was extraordinarily dumb of me, but I have to admit that by the end of the series, I myself did not have a whole lot of sympathy for Walter White. For me, he had gotten too dark to empathize with, which is not to say viewers should all feel the same way I do. I'm glad viewers still rooted for him up till the end and wanted him to live. Hell, even my mom did! And if you knew her, you'd be pretty shocked she would root for a guy like that. I think Walter White was smart, active, willful — and that's what we look for in our heroes. The fact that he was engaged in some pretty heinous criminal behavior might have been a bit beside the point. He nonetheless had many other qualities that we deem heroic in fiction. Maybe that's why people stuck with him. Certainly people stuck with Walter White because he was played by the astoundingly talented Bryan Cranston, who remains constantly watchable no matter what character he is playing.

---

12. "From the Aztec to the Volvo in the final episodes, everything about vehicle selection in Breaking Bad seems spot on. How much thought went into these choices, and what were some other ideas?"

A lot of thought went into choosing the automobiles for Breaking Bad and for Better Call Saul. We writers have a lot of help from our transportation captain, Dennis Milliken. As our head teamster, Dennis takes great pride in finding us interesting vehicles for use in both shows. As writers, we spend a lot of time thinking about what kind of car best represents a particular character.

---

13. "Why did you pick Saul for a spinoff?"

I have to admit, a spin-off series about Gus Fring would be a good idea. There's no perfect answer to that question, other than to say that creating a spin-off series related to Saul Goodman was an idea that we batted around pretty much since the creation of the character. We always loved writing for Saul Goodman throughout the run of Breaking Bad. Now we find writing for Jimmy McGill, he's so good with words that writing his dialogue is great fun, too. But you're right, Gus could carry his own story. I wish there were more hours in the day, so that we'd be able to do ALL these shows!