Bill Murray Jumps Out of a Cake for One Last Big Entrance on Letterman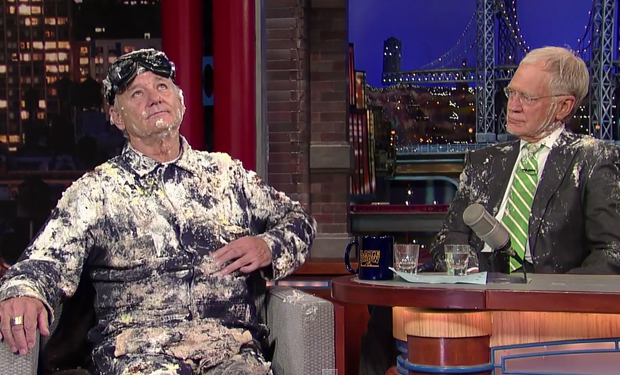 Posted by Melissa Locker on
Bill Murray made one last big entrance on The Late Show to say farewell to his friend, David Letterman.
Murray has a long history on the show, as he was Letterman's very first guest back when the show was on NBC and again when Letterman moved to CBS in 1993. So Murray had to make sure his final appearance didn't disappoint. There was no better way to do that than jump out of a giant cake with the words "Goodbye Dave" written across it.
In a scene reminiscent of Murray's Peter Venkman wiping supernatural snot all over the library in Ghostbusters, Bill gave Dave a bear hug (covering him in icing) and then ran around the set, smearing cake on the band, and a few lucky audience members.
Watch the full video below:
Want the latest news from IFC? Like us on Facebook and follow us on Twitter@IFC