Anna Kendrick As The New Indiana Jones Kicks Misogyny's Ass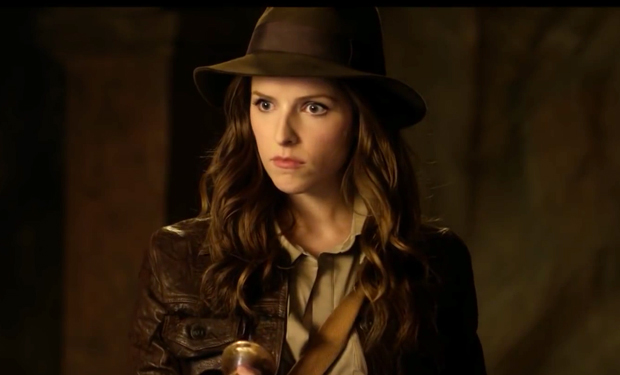 Posted by Nick Romano on
If you thought an all-female Ghostbusters movie gutted your childhood with a rusty nail, wait until you see Anna Kendrick in an Indiana Jones reboot. The Pitch Perfect 2 actress starred in this reimagining of The Last Crusade, taking over for Harrison Ford as Indianna (with two "n"s) Jones. But, as the knight guarding the Holy Grail found out, don't you dare compliment her looks or she'll give you a whiplash so severe that you'll rethink your misogyny.
Watch the video below.
Indianna Jones and The Last Crusade was made in promotion of Red Nose Day. You've probably been seeing posters and commercials for it all around town without really knowing what it's all about. Basically, think of Comic Relief in the style of Patch Adams: it's a campaign culminating in a live event that is designed to raise money for the youth living in poverty by simply making people laugh. Hence, here's the comedic spoof of what a female-led Indiana Jones reboot might look like.
Lucasfilm is already planning to continue the Indiana Jones franchise with more sequels, so why not let Kendrick carry the weight of such a franchise on her petite shoulders? Aside from the fact that the internet will explode with statements like, "my life is over," "this is a sign of the apocalypse" and the like, Kendrick's Indy will not only discover artifacts and dodge massive boulders, but she'll also fight misogyny with her whip and words.
"Man, I'm a respected professor of archaeology. Times have changed!"
The Indianna Jones video is preceded by a title card goofing over Hollywood's culture of gender-swapped remakes, but perhaps this means more spoofs like this one are on the way. We have some time before Red Nose Day drops, so expect more videos before then. Hopefully, they'll all feature Kendrick remaking classic movies.
The live Red Nose Day benefit will take place on May 21 and can be seen on NBC starting at 8 pm.