8 TV Stars Who Were Awesome Twice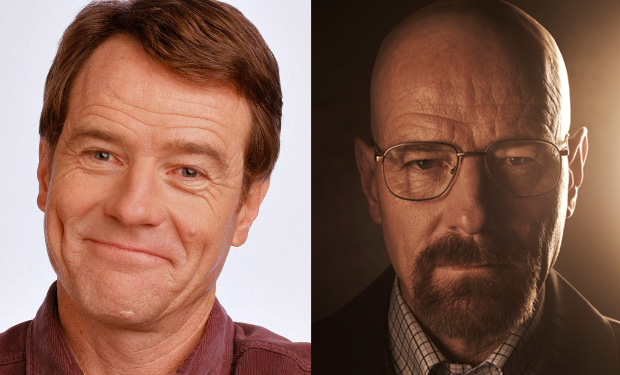 Posted by IFC on
By Jeff Finkle
There may never be another drama on TV with a character arc as intensely captivating as Walter White's on Breaking Bad and Bryan Cranston's performance was in a word, perfect. If you were a fan of the 2000's era sitcom Malcolm in the Middle, then you knew just how awesomely funny Cranston was as Malcolm's lovable father, Hal. Hal and Walter were as different as night and day. Walter liked to wear a pork pie hat, Hal preferred roller skates. Oddly enough, they were both quite comfortable in their tighty whities.
Here are six other actors who were awesome twice and almost as nice as Bryan Cranston.
8. Larry Hagman, I Dream of Jeannie/Dallas
Decades before Bryan Cranston broke out as amazingly bad and unexpectedly awesome with Walter White, Larry Hagman turned J.R. Ewing into the villain everybody loved to hate on Dallas. J.R.'s thirst for black gold was every bit as voracious as Walter's hunger for the power that his blue crystal meth gave him. Even though Hagman's affable Tony Nelson was an astronaut on I Dream of Jeannie, he did share one strong similarity to Hal on Malcolm in the Middle. Despite the fact that the beautiful Jeannie was literally his genie in a bottle, she was clearly the one wearing the (Hammer) pants in the family.
---
7. Neil Patrick Harris, Doogie Howser, M.D./How I Met Your Mother
Neil Patrick Harris, or NPH as Twitter likes to call him, is the rare triple threat star who can sing, dance, and as Barney on HIMYM, he could wait-for-it…make sweet love with over 2,000 bimbos. But for anyone old enough to remember when MTV had videos, Neil made America fall for Doogie Howser, M.D. When the adorable teenage doctor wasn't saving lives or hanging with his pal Vinnie, he was writing in his computer journal a decade before people knew what a blog was.
---
6. Ed O'Neill, Married With Children/Modern Family
"Let's Rock." This slacker rallying cry was delivered by The Fox network's first rock star, Al Bundy. There had never been a character like Al Bundy before and a family like The Bundys who cared more about themselves than each other. Though of course they were always up for a "Whoaa Bundy!" chant when it came to getting out of having to do anything besides sitting on the couch. It's a testament to Ed O'Neill's acting ability that he could embody two iconic TV dads, decades apart, whose only shared character traits are the ability to be annoyed by their family.
---
5. Katey Sagal, Married with Children/Sons of Anarchy
The fact that neither Ed O'Neill nor Katey Sagal has won an Emmy in their careers is hard to imagine. Emmy voters are lucky that Sagal's Gemma is just a character that she played on Sons of Anarchy, or else a SAMCRO beat down might just be in order. It is a credit to Sagal's acting chops and gravitas that she was such a convincingly conniving, cut-throat Lady Macbeth-esque matriarch to the SAMCRO biker gang. Equally amazing is how she managed to look sexier as a 50-something biker chick than she did as a big-haired, bon bon-eating Peggy Bundy on Married With Children, decades earlier. (If you count Katey's voiceover role as Leela on Futurama, she's a three-timer on the awesome scale.)
---
4. Michael C. Hall, Six Feet Under/Dexter
Despite what anyone thought of Dexter's (SPOILER ALERT) lumberjack finale, they watched the show for eight years because Michael C. Hall made the complex character his own and became everyone's favorite closeted serial killer. Hall had established himself a few years earlier on the highly acclaimed HBO series Six Feet Under as David Fisher, the sensitive gay brother in the dysfunctional Fisher clan. Michael C. Hall brought two polar opposite characters to life in equally memorable and often humorous ways.
3. Jeffrey Tambor, The Larry Sanders Show/Arrested Development/Transparent
Hey Now! Twice is nice but thrice is nicer and Jeffrey Tambor has portrayed three classic TV characters that all showed that he is more than just a go-to comedic character actor. Tambor's Hank Kingsley was the sidekick you hoped Ed McMahon was actually like, and arguably the funniest part of the critically acclaimed The Larry Sanders Show in the '90s. He fit perfectly with the hilarious ensemble cast of Arrested Development as George Bluth Sr. (and his twin Oscar) but no TV viewer could have predicted that his performance of a lifetime would be when he got in touch with his feminine side. As Maura Pfefferman on Transparent, he is transfixing as he captures all the right emotions, as well as the humor of what it's like for a Jewish dad to come out to his family as a transgendered woman.
---
2. Fred Armisen, Saturday Night Live/Portlandia 
Perhaps we're biased, but Fred joins the ranks of SNL star who went on to great TV success (Tina Fey, Amy Poehler, Andy Samberg, etc.) with his role on Portlandia.
video player loading
.
.
.
---
1. Julia Louis-Dreyfus, Seinfeld/Veep
The actress formerly known as Elaine became the only Seinfeld star to shake the show's dreaded curse when she scored the lead role in the Emmy-winning Veep. If you've ever wondered what Elaine would be like as president, you're in for a treat.