7 Times Leonardo DiCaprio Should Have Won an Oscar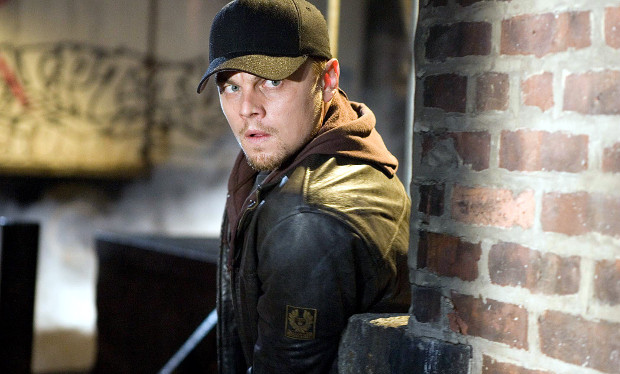 Posted by K Thor Jensen on
It's crazy to think that Leonardo DiCaprio has been acting professionally since the age of five (he got kicked off the set of Romper Room!) but has yet to take home an Academy Award. The dude's been in some of the most financially successful and critically lauded movies of all time. What's it gonna take? Join us on a trip through history as we spotlight seven flicks that Leo should have taken home an Oscar for.
7. What's Eating Gilbert Grape
DiCaprio's breakthrough role came as the developmentally disabled teen Arnie in Lasse Hallstrom's small-town drama. It's really tough to play a role like this, but the critics unanimously raved over Leo's methodical inhabiting of the character. He got his first Oscar nomination, but lost to Tommy Lee Jones in The Fugitive. Much respect to Tommy Lee, but that's highway robbery.
---
6. The Aviator
Playing a famous historical figure is usually a pretty good in for Oscar recognition, and DiCaprio stunned critics with his transformation into film producer and aviation pioneer Howard Hughes. The Aviator was nominated for a staggering 11 Oscars, taking home five of them. Jamie Foxx won the Best Actor statue for Ray, which in hindsight seems pretty crazy, especially considering the trajectory of both mens' careers since then.
---
5. Inception
Keeping Christopher Nolan's brain-twisting tale of mental invasion and memory relatable for the mass audience is a tough task, but DiCaprio's performance as Dom Cobb made it all possible. Inception was the most ambitious movie of 2010, truly pushing the envelope for what the cinematic medium could portray. Sadly for Leo, Jeff Bridges took the Oscar for playing an alcoholic country singer in Crazy Heart. What can we say? The Academy loves drunks.
---
4. The Wolf Of Wall Street
DiCaprio was actually nominated for his role as producer on Jordan Belfort's coke-addled memoir turned wild Scorsese movie, but I think that he should have taken home the statue for his work in the lead. As Leo slides into his "dad bod" phase, he owns the stereotype of a dissolute party boy steadily destroying both his body and his reputation. His turn as Belfort was terrifyingly believable. Unfortunately he lost the Best Actor trophy to co-star Matthew McConaughey.
---
3. Django Unchained
Christoph Waltz took the Best Supporting Actor statue for his role in Quentin Tarantino's spaghetti Western homage. Shockingly, DiCaprio wasn't even nominated for his chilling turn as vile plantation owner Calvin Candie. It's a shame, because it was a meaty supporting role that allowed Leo to deliver one of his best performances in years. Hopefully he'll channel his inner bad guy again in the future.
---
2. Revolutionary Road
Sam Mendes' moving depiction of a married couple falling apart in 1960s suburbia reunited Leo and his Titanic costar Kate Winslet and earned them both critical acclaim and a Golden Globe win for Winslet. While costar Michael Shannon scored an Oscar nom, Leo came up empty when it came to awards season gold.
---
1. The Departed 
This acclaimed Boston-set crime flick took home four Oscars, including Best Picture and a much-deserved win for director Martin Scorsese. Of the stellar cast, only Mark Wahlberg was nominated for Best Supporting Actor. Leo was unjustly shut out for his performance as undercover police officer Billy Costigan.