15 Things You Probably Didn't Know About Bad Boys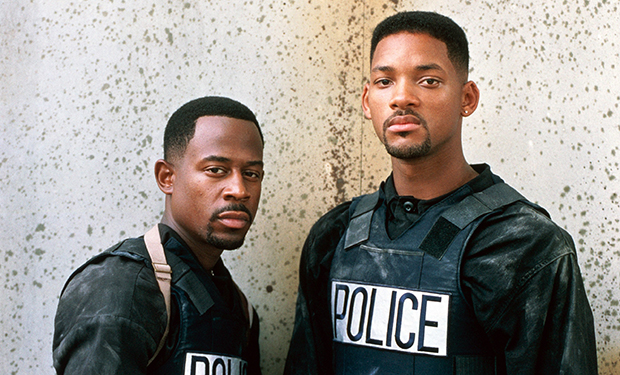 Posted by IFC on
Michael Bay's directorial debut turns 20 this year. How much do you know about the frenetic buddy cop movie?
1. THE MOVIE WAS ORIGINALLY INTENDED FOR DANA CARVEY AND JON LOVITZ.
An earlier, somewhat different vision of the film would have had the SNL stars headlining. This early project even had a different, less catchy title: Bulletproof Hearts.
Disney, the studio behind the project at the time, was attracted to Carvey thanks to his recent successes with Wayne's World and Wayne's World 2. While Carvey was interested in the prospect at first, a Las Vegas outing arranged by producer Don Simpson convinced the comedian to back out.
---
2. ARSENIO HALL WAS THE TOP CANDIDATE FOR WILL SMITH'S ROLE.
But Bay decided to cast Smith after watching The Fresh Prince of Bel-Air.
---
3. EVERYBODY HATED THE SCRIPT.
Even in the early days of the project, writer George Gallo's script was the source of ire among the cast and crew. Lovitz told The A.V. Club in 2010, "But the script—oh, another George Gallo script—the script was awful." Bay echoed these sentiments. In a 1998 discussion with film critic Prairie Miller (published in full on Bay's personal website), the perpetually candid director admitted, "Bad Boys was a very bad script I thought, let's face it. Basically all we had for Bad Boys was two great actors, and they had a great charisma together." [sic]
---
4. SO AN UNLIKELY PAIR CAME IN FOR A REWRITE.
Producers roped in the writing team of Michael Barrie and Jim Mulholland to fix the script. The pair had worked almost exclusively in sitcoms and late night talk show writing; Barrie and Mulholland had written on staff for The Tonight Show under Jack Paar and Johnny Carson and would go on to work for David Letterman on The Late Show.
---
5. BAY ENCOURAGED SMITH AND LAWRENCE TO IMPROVISE.
Even after the rewrites, Bay banked on the comedic prowess of his lead actors to keep the movie afloat. Many exchanges were born on set, especially the more contentious discussions. For instance, an early argument between their characters involving Lawrence's slow driving escalated to a point of complete improv after Bay prompted Smith to taunt Lawrence. Additionally, one of the film's best remembered jokes—Smith requesting a pack of Tropical Fruit Bubblicious immediately after disarming a gun-toting bodega cashier who assumed that he and Lawrence were robbing his store—was Smith's idea.
---
6. THERE WAS ONE LINE SMITH (ALMOST) WOULDN'T DELIVER.
The movie's conclusion features Smith's uptight Mike Lowrey finally professing his affection for his partner and friend, Lawrence's Marcus Burnett. The exchange very nearly never made it into the final cut, as Smith was opposed to saying, "I love you" to his screen partner. In light of an impending sunset, Bay initially acquiesced to Smith—albeit angrily—allowing him to perform the scene without the remark. Eventually, Bay coaxed Smith into delivering the line, and the final cut includes Mike telling Marcus he loves him.
---
7. SMITH KEPT HIS TOP ON.
In the 1990s, it was common for well-built leading men to deliver action sequences while wearing minimal clothing. Bay hoped to follow this trend by having Smith's climactic running scene performed shirtless. However, Smith would only go so far as to do the scene in an unbuttoned dress shirt.
---
8. BAY'S MOTHER MADE HIM "CLEAN UP" THE FILM.
Bay screened the opening scene for his mother, Harriet, who was concerned about how much profanity the central duo used. To make his mom happy, Bay reedited the scene to omit a handful of the expletives. (Of course, there is still a ton of swearing in the final cut, so you can imagine how much bad language Harriet Bay had to sit through.)
9. THE VILLAINS' AUTOMOBILE CRASHED OFF CAMERA.
Throughout the film, the villains drive a Shelby Cobra 427 (a staple of action movie antagonists). One stunt involved the car driving out of the back of an aircraft, which resulted in the Cobra crashing and incurring superficial damages. A number of scenes shot afterwards had to keep the car in tight close-up to hide these damages until a replacement Cobra could be procured.
---
10. LEONI GOT KNOCKED UNCONSCIOUS WITH AN AK-47 DURING SHOOTING.
She missed her mark, and Lawrence's stunt double knocked her out.
---
11. BAY PAID $25,000 OF HIS OWN MONEY TO SHOOT THE FINAL ACTION SEQUENCE.
The studio refused to fund the explosions and shootouts Bay envisioned.
---
12. BAY HAS MANY QUALMS WITH THE FINAL PRODUCT.
Bay is unusually willing to speak with open vitriol about his past productions. Just as he has with Armageddon, for which he offered a public apology (that he quickly recanted) in 2013, Bay has gone on record about his dissatisfaction with the ultimate cut of Bad Boys. The director expresses dissatisfaction with a number of specific shots, including the car chase following the Club Hell sequence, and one shot in which a character is thrust from an exploding airplane.
---
13. THE FILM PRODUCED A HANDFUL OF SOPRANOS STARS.
Fans of the mafia series should immediately recognize two prominent supporting members of the Bad Boys cast: Smith and Lawrence's characters' precinct captain, played by Joe Pantoliano (known on The Sopranos as the wry and unstable Ralphie Cifaretto), and the pair's drug-addicted informant Jojo, played by Michael Imperioli (Christopher Moltisanti, a major player on the HBO drama).
Bad Boys has a few less obvious connections with The Sopranos as well. Frank John Hughes, who plays criminal henchman Casper in the film, was a fixture of The Sopranos' final season as Mafioso Walden Belfiore.
Additionally, The Sopranos featured Bad Boys actors Scott Cumberbatch (who plays Lawrence's son) in a Season 1 episode of The Sopranos, and Shaun Toub (the bodega clerk who suspects Smith and Lawrence's characters of robbing his store) in a Season 3 episode.
---
14. BAD BOYS'S BUDGET WAS JUST $19 MILLION.
His most expensive film, Transformers: Age of Extension, cost $210 million.
---
15. AT 118 MINUTES, IT IS BAY'S SHORTEST MOVIE BY FAR.
It's the only of Bay's directorial features to come in shy of two hours.