Get Psyched! 15 Little-Known Facts About BASEketball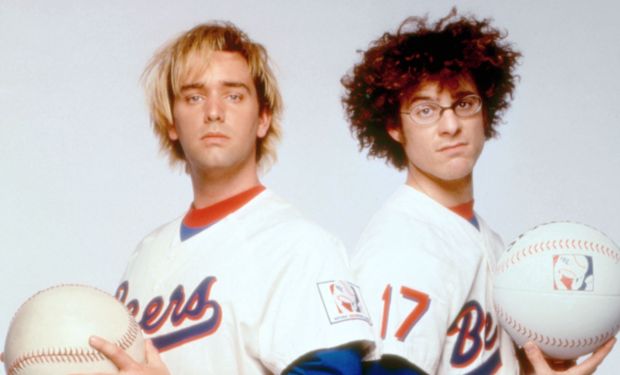 Posted by IFC on
Don't get psyched-out! Here are a few things you may not have known about 1998's BASEketball, starring South Park creators Trey Parker and Matt Stone.
1. BASEKETBALL WAS A REAL GAME THE DIRECTOR PLAYED WHEN HE WAS YOUNGER
Director, co-writer, and co-producer David Zucker and his friends invented the game BASEketball in 1982 because they were bored with playing regular basketball.
---
2. DAVID ZUCKER ORIGINALLY PLANNED ON MAKING A GAME SHOW
Zucker initially developed BASEketball as a TV game show modeled after MTV's then-popular Rock 'n' Jock Sports. A pilot was shot with two competing teams of contestants, actors, and former sports stars. Chris Rock was the host.
---
3. THE MOVIE GREW FROM A FAILED BIOPIC PROJECT
Zucker, who had a development deal with Universal Studios, was working on a movie adaptation of the life of Davy Crockett, but that project fell through. Desperate to keep his contract, Zucker pitched a low-budget comedy idea based on his made-up game—it got the green light.
---
4. TREY PARKER AND MATT STONE WERE CAST AFTER SOUTH PARK BECAME A HIT
The filmmakers approached Parker and Stone to be in the movie after their animated series became the biggest hit in Comedy Central's history.

---
5. BEFORE BASEKETBALL, PARKER AND STONE HAD PITCHED ZUCKER A TV SHOW
A musical buddy comedy about the biblical exodus called Aaron and Moses.
---
6. CHRIS FARLEY WAS ZUCKER'S FIRST CHOICE FOR THE LEAD.
Parker was cast after Farley tragically passed away in December 1997.
---
7. PARKER AND STONE HAD AN UNOFFICIAL HAND IN CRAFTING THE SCRIPT
Though they don't have writing credits, Parker and Stone helped rewrite the script to make it align with their raunchy sensibilities. Stone's character Doug Remer didn't even appear in original drafts—he was only added after Stone was cast.

---
8. SQUEAK SCOLARI WAS PARKER AND STONE'S GOOD LUCK CHARM
Parker and Stone also added the sidekick character Squeak, played by their friend Dian Bachar. Bachar had previously appeared in Parker and Stone's movies Cannibal! The Musical and Orgasmo, and would go on to lend his voice to background characters on South Park.

---
9. ZUCKER CAST BAYWATCH STAR YASMINE BLEETH WITHOUT EVER SEEING THE SHOW
He was simply impressed by her audition.
---
10. SOME SOUTH PARK CHARACTERS MAKE AN UNOFFICIAL APPEARANCE IN THE MOVIE
Parker delivers lines in the same voices he uses for South Park characters in some key moments. He uses Mr. Garrison's voice to make fun of Stone's character for helping a kids' charity (the line is, "I forgot how much Douglas Remer cares about kids"). Then, Parker channels Cartman while trying to psych-out a Dallas player in the championship game by telling him how fat he is.

---
11. SPORTSCASTER AL MICHAELS THREATENED LEGAL ACTION OVER HIS ONE DAY OF WORK
When Michaels found out that fellow sportscaster Bob Costas was being paid $50,000 ($35,000 more than Michaels) for his one day of work on the movie, Michaels threatened legal action. He was eventually paid $60,000 for his brief appearance.
---
12. THE MOVIE SPAWNED ACTUAL BASEKETBALL LEAGUES
At least five official BASEketball leagues popped up around the country.

---
13. THE UNSOLVED MYSTERIES EMPLOYEES AREN'T DOING THEIR JOBS VERY WELL
During the scenes with Robert Stack in the Unsolved Mysteries offices, nearly all of the employees can be seen playing solitaire on their computers.
---
14. THE BEERS DO A FAMILIAR CELEBRATION
After winning the Denslow Cup, Coop, Remer, and Squeak do the "Mile High Salute," a celebration favored by the Denver Broncos football team in the late '90s. Parker and Stone are both Colorado natives and lifelong Broncos fans.
---
15. IT SPAWNED ITS OWN INTERNET MEME
The expression "derp," a variation of "duh," was first used in BASEketball.