10 Movies You Didn't Know Were Based on Comics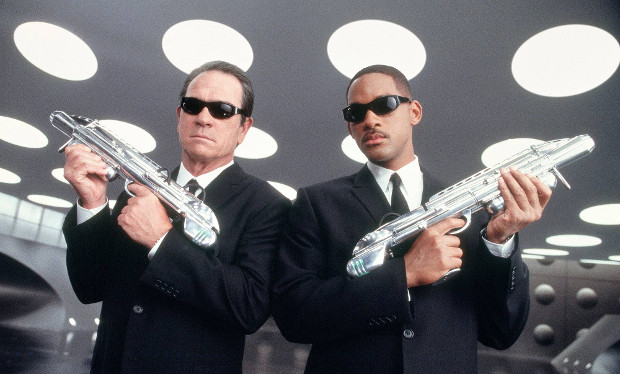 Posted by IFC on
By Sara Franks-Allen
When we hear the term "comic book movie," we usually think of caped superheroes taking on powered-up villains to save humanity. But comics have been the inspiration for all kinds of movies that don't wrap their characters in capes and spandex. Here are 10 films that you may not know were comics before they were movies; from lesser-known superhero stories to crime dramas to tales of nuclear war.
10. Ghost World (2001)
Ghost World began life as a feature in Daniel Clowes' one-man anthology comic, Eightball. Because of the serialized nature of the stories, the original tale is more of a string of slice-of-life incidents that gradually build to the end of the two main characters' friendship. The Terry Zwigoff film has a stronger overarching plot with a new character: sad sack blues nerd Seymour, played by living Daniel Clowes drawing Steve Buscemi.
---
9. American Splendor (2003)
It's no surprise that American Splendor is based on the autobiographical comics of the same name. Even a quick glance at the movie poster tells you that this is a comic book movie, though not the superhero kind. The film, like the comics, is a mostly accurate account of the life of comics scribe, jazz critic, and would-be record thief Harvey Pekar. Many of the early American Splendor stories were drawn by Pekar's friend, the legendary underground comics artist R. Crumb. The lists of other artists who have drawn for the comic reads like a "who's who" of modern comics greats.
---
8. Road to Perdition (2002)
The original Road to Perdition was a little-known graphic novel about an ex-mob enforcer and his son seeking revenge against John Looney, a real life early 20th century crime boss. The comic's profile shot up when it was adapted into a movie with a star-studded cast headed up by Tom Hanks and Paul Newman. Max Allan Collins, the book's author and a prolific mystery writer who once wrote the Dick Tracy newspaper strip, has said that the story is "an unabashed homage" to the famous manga series Lone Wolf and Cub.
---
7. From Hell (2001)
Though they share characters, a conspiracy theory, and a title in common, the book and movie versions of From Hell are very different animals. The comic is an exhaustively researched tome by Alan Moore (Watchmen) and Eddie Campbell exploring a theory on the killer and motives behind the infamous Jack the Ripper murders. The film is more a traditional mystery that mashes together numerous characters, inexplicably alters names, and swaps a realistic portrayal of Victorian-era prostitution for a romance between Johnny Depp and Heather Graham. Moore disliked the adaptation and has distanced himself from movie versions of his comics work.
---
6. A History of Violence (2005)
Before it was an acclaimed film directed by David Cronenberg with Viggo Mortensen in the lead role, A History of Violence was a graphic novel by writer John Wagner (co-creator of Judge Dredd) and artist Vince Locke, who drew the zombie comic Deadworld. The movie's first half stays very close to the source material; the famously brutal diner scene is all but identical to the one in the comic. But the latter half begins to diverge. The comic deals with the heist that lead to main character Tom starting a new life under an assumed name and Richie, Tom's childhood friend who suffered the consequences that Tom escaped. The film focuses more on the effects on Tom's family when his past is revealed. The details of his old life are kept vague and Richie becomes his mobster brother.
5. Men in Black (1997)
The Men in Black comics were created by writer Lowell Cunningham and artist Sandy Carruthers. The series went through a pair of three issue miniseries and three different publishers (technically the comics are owned by Marvel today) before becoming the more widely known movie franchise. The movies only use the most basic elements of the comics. There's a secret organization shielding the world from the weird stuff, agents named Jay, Kay, and Zed, and the neuralyzer ("flashy thing"). But the comics had a broader scope — the agents battled mutants, demons, and various legendary monsters as well as aliens — and a darker tone. The agency's aims were not as benign as they are in the movies and agents would go as far as murdering people in order to protect the secrecy of their group and its operations.
---
4. The Crow (1994)
The Crow started out as a four-issue miniseries by James O'Barr published in 1989. The film sticks to the story from the comics, telling how Eric Draven is resurrected by a mystical crow to take vengeance on the thugs who murdered him and his fiancee. Sequels to both the movie and the comic have alternately focused on Eric and other human avatars for the crow spirit. The film's release was partly overshadowed by the accidental on-set death of 28-year-old star Brandon Lee.
---
3. Monkeybone (2001)
Monkeybone has its roots in a 1995 comic called Dark Town, written by Kaja Blackley and drawn by Vanessa Chong. Both star a man in a coma who ends up in a strange world of puppets and has to keep the residents from taking control of his comatose body while he works to escape before he's taken off life support. Director Henry Selick thought the comic was a perfect fit with his sensibilities and stop-motion animation directing prowess. He initially planned to stick to the comic's look and story, but the film evolved into the story of a cartoonist who meets and clashes with his most famous creation. Monkeybone was a critical and commercial flop, while Dark Town ended on a cliffhanger and never got a second issue.
---
2. Mystery Men (1999)
We doubt you'll be shocked to learn that this team of second-string superheroes had their origins in comics, but you may be surprised to learn exactly where. Rather than headlining their own book the team got their start in the pages of "Flaming Carrot" Comics. The Flaming Carrot is himself a B-list superhero, an ordinary guy who read too many comics, went bonkers, and put on a giant carrot mask to fight crime. Due to the difficulties of making a man wearing a carrot mask with fire coming out of the top look convincing on film, the Carrot has yet to make his cinematic debut. But Mr. Furious, the Shoveler, and Dr. Heller all came from his comic.
---
1. Tamara Drewe (2010)
This cheeky British comedy (directed by Stephen Frears of Dangerous Liasions and The Queen fame) began life as a newspaper comic strip and graphic novel by Posy Simmonds. A modern retelling of Thomas Hardy's Far from the Maddening Crowd, Tamara Drewe tells the whimsical tale of a young woman (Gemma Arterton) whose new nose job and blossoming womanhood drives her hometown village simply batty. A critical hit upon its release, Tamara Drewe is likely one of the few comic adaptations that your grandmother has seen.