10 Important Life Lessons Animal House Taught Us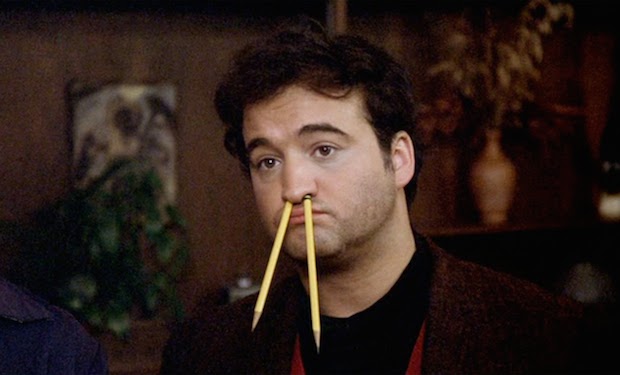 Posted by Mike Schuster on
A film doesn't become one of the most quotable movies of all time without imparting some level of relatable wisdom, and John Landis' 1978 comedy classic Animal House does so in spades. Not so much a treatise on college life as Life itself, the work provides lessons that are as true today as they were on the Faber College campus circa 1962.
Here are 10 important life lessons we learned from Bluto, Otter, Boon, Pinto, Dean Wormer, and the rest.
10. "Fat, drunk, and stupid is no way to go through life, son."
As gluttons and drunks continue to smile as empires burn, hedonism will always have its place. However, we mustn't confuse debauchery with vitality, passivity with nobility, or fatuity with purity. Benjamin Franklin famously said, "Early to bed and early to rise, makes a man healthy, wealthy, and wise." And that guy was a drunken slob!
---
9. "Take it easy, I'm pre-law."
"I thought you were pre-med."
"What's the difference?"
Inside each and every one of us is the ability to rise above our stations and training to tackle whatever obstacle we may come across. And in our most desperate hour, time spent searching for an expert who knows what they're doing would only exasperate the problem. Better to stand up, accept the leadership role, and ramble on like you know what you're talking about.
---
8. "Thank you, sir! May I have another?"
The need to belong in a group is a powerful psychological imperative, and we often sacrifice our beliefs, dignity, and comfort to achieve it — hence the popularity of fraternities. But whereas some celebrate the induction of pledges with libations, other more cruel organizations impart pain and humiliation. Now, which group would you rather be a part of?
---
7. "Will that work?"
"Hey, it's gotta work better than the truth."
Not everything carved on a stone tablet is sacrosanct. While honesty is said to be the best policy, we must look beyond the immediate effects of truth toward the long term and ask ourselves, "What will we gain by being honorable and forthright here?" When deception benefits us all, it is our social and civic duty to lie our asses off.
---
6. "Grab a brew. Don't cost nothin'."
Our fixation on material goods and financial status has become ingrained into not only our psyches but the very institutions that govern our lives. When global economies hinge upon our wanton need for objects to prove our wealth and happiness, we must step back, reassess, and partake in Life's simple pleasures that don't cost nothin'.
---
5. "He can't do that to our pledges!"
"Only we can do that to our pledges."
Deep social bonds provide a direct conduit to our egos, opening ourselves to raillery and indiscretions that we wouldn't tolerate coming from an impersonal acquaintance. So it is the testament of a loving relationship to be able to abuse, disgrace, and degrade our fellow man once you both belong to the same collegiate organization.
---
4. "Kroger, your Delta Tau Chi name is Pinto."
"Why Pinto?"
"Why not?!"
It is in our nature to search for meaning in all walks of life, from the self-reflective "Who am I?" to the philosophical "Why am I here?" But obsessing over reason and logic is futile in a world governed by chaos and caprice. When events and concepts with clearly defined catalysts are rare, we must always deal with the here and now and leave the scientific method to the objectivists.
---
3. "We gotta take these bastards. Now, we could fight 'em with conventional weapons. That could take years and cost millions of lives. Oh no. No, in this case, I think we have to go all out. I think that this situation absolutely requires a really futile and stupid gesture be done on somebody's part."
Grand, noble acts of bravery are the stuff that sell history books, but we should never dismiss the impulsive and erratic deeds of those who've got nothing to lose. Because tactical endeavors borne from a bureaucratic braintrust and carried out on an indistinguishable battlefield are lost in the annals of war when matched with ten thousand marbles and a pirate costume.
---
2. "My advice to you is to start drinking heavily."
From the cradle to the grave, we're told to face every one of Life's challenges head-on without the slightest bit of hesitation or remorse. But we're human and we need to occasionally self-medicate to feel a semblance of care and appreciation when it's devoid in the outside world. And come on, who provides better advice than a future senator?
---
1. "What? Over? Did you say 'over'? Nothing is over until we decide it is! Was it over when the Germans bombed Pearl Harbor? Hell no!"
Motivation is an ephemeral beast, impossible to be captured and tapped like a keg of bottom shelf beer. However, when times look their bleakest and the last shred of hope is left drained and bloodied on the floor, there's always irrational anger to get ourselves off our keesters and blindly forge into battle on false pretenses. Whatever gets the job done.
Want more words of wisdom? Check out all airings of Animal House on IFC.