10 Videos That Prove That David Letterman Should Return to Acting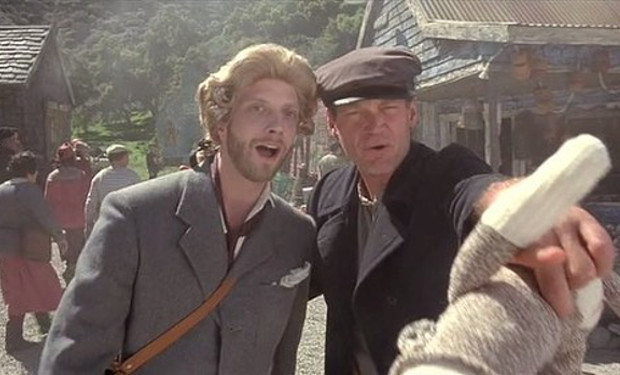 Posted by Nick Nadel on
Now that David Letterman has thrown his last pencil and sent his Late Show off into TV heaven, everyone is wondering what the gap-toothed comedy legend will do next. Sure, he'll probably spend some time with the family and show up at NASCAR events. But we wish Dave would bring his grumpy charm to sitcoms and movies as he has done on a few select occasions. The roles below may have been part of Dave paying his dues or maybe they were done as a favor to a showbiz friend. But that doesn't make them any less hilarious. Here's proof that Letterman should use his retirement to once again show off his acting chops.
1. Cabin Boy, Old Salt in Fishing Village
Letterman's cameo as a crusty stuffed monkey salesman in protege Chris Elliott's cult comedy is easily is most quoted acting role. What movie couldn't benefit from Letterman chomping on a cigar, just barely committing to the premise? It was also the first time Letterman used the pseudonym "Earl Hofert," a moniker he reprised for…
---
2. Beavis and Butt-head Do America, Motley Crue Roadie/Probably Butt-head's Dad
Yes, that's Letterman as the former Motley Crue roadie who brags about scoring with some chicks 15 years back in Beavis and Butt-head's hometown of Hyland. (Assuming he's telling the truth, does that mean Beavis and Butt-head have the same father? The other roadie does look an awful lot like Beavis…) Letterman was a big fan of the crude duo, often having them on as guests on The Late Show, so it's fitting that he may be their father.
---
3. Spin City, Rags the Talking Dog
Michael J. Fox has always been one of Letterman's favorite guests, which probably explains why he voiced a suicidal dog named Rags on an episode of Spin City. Why didn't Rags get a spin-off? It would've been preferable to the Charlie Sheen Spin City-era.
---
4. The Nanny, Himself
In the episode "Pen Pals," quippy domestic Fran Fine is nervous that her pen pal will find out that she isn't actually an Olympic gold medalist who has appeared on The Late Show. Letterman has a brief cameo as himself in Fran's fantasy, which suggests that in the Nanny universe, The Late Show would gladly give airtime to a member of a Broadway producer's house staff.
---
5. The Building, Thief
Letterman and his Worldwide Pants production company were behind this short-lived sitcom vehicle for actress Bonnie Hunt. Unfortunately, Dave's cameo as a masked thief wasn't enough to save The Building from being the first of many critically acclaimed failures on Mrs. Hunt's resume.
---
6. Open All Night, Man in Suit
Shortly before he took over the post-Tonight Show slot, Letterman poked fun at his failed morning show in a meta appearance on Open All Night, a short-lived sitcom about a convenience store created by Bob Newhart Show vet Jay Tarses.
---
7. Peeping Times, Dan Cochran
Ever wonder what Dave would be like as a Daily Show correspondent? Check out his performance as reporter Dan Cochran in this newsmagazine spoof from filmmaker Barry Levinson and actual newsman David Frost. A thinly veiled takedown of 60 Minutes, Peeping Times was filmed as a pilot with Alan Oppenheimer (the voice of Skeletor on He-Man!) as the Mike Wallace stand-in Miles Rathbone and Letterman as his Morley Safer-esque coanchor. Featuring Mel Brooks as Hitler and Christopher Guest on the writing staff, the special is begging to be rediscovered.
---
8. Mork and Mindy, Ellsworth
1979 was a big year for Dave, as he made numerous TV appearances and starred as a stand-up comic who becomes a talk show host in the forgotten NBC movie-of-the-week Fast Friends. (If anyone has a clip, please let us know!) He also shared a manager with Robin Williams, which explains why the future late night host turned up on an episode of Mork and Mindy as a shady self-help group leader with a penchant for fancy cars and open collars.
---
9. The Riddlers, Host
Dave showcased his snarky hosting skills on this failed game show pilot which also featured a young Michael McKean.
---
10. Mary, Cast Member
An awkward attempt to inject some youthful Saturday Night Live-style energy into the staid variety show format, Mary Tyler Moore's disastrous solo showcase featured a cast of fresh-faced performers that included Michael Keaton, Swoosie Kurtz, and a visibly uncomfortable Letterman. Merrill Markoe, who wrote for Mary and would go on to make TV history with Dave on both his morning show and Late Night, recalls that Letterman and Keaton were forced to perform the YMCA classic "Macho Man" in a half-baked Deliverance parody that made Dave want to "retch."