10 '90s Movie Soundtracks We'll Listen to Forever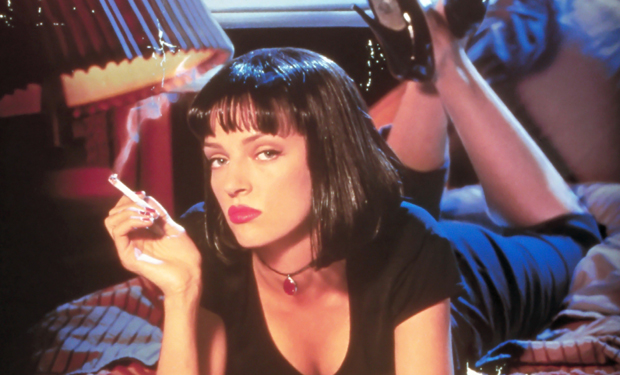 Posted by K Thor Jensen on
The decade of grunge saw movie soundtracks diversify into lots of new genres. In this feature, we'll pimp out our 10 favorite soundtracks of the era. No Titanic, please.
10. Pulp Fiction
It was a toss-up between this and Reservoir Dogs, but either way Tarantino redefined how directors deployed classic tracks in their movies.

Check out all airings of Pulp Fiction on IFC.
---
9. Space Jam
R. Kelly's "I Believe I Can Fly" was just the tip of the iceberg for this collection of monster hits paired to the best animated b-ball movie ever.

---
8. Velvet Goldmine
Todd Haynes couldn't use the music of David Bowie for his glam-rock flick, so he just got new tracks performed by supergroups including members of Radiohead, Suede and Sonic Youth.

---
7. Bulworth
This Warren Beatty vehicle is pretty embarrassing in hindsight, but the awesome soundtrack launched the inescapable "Ghetto Superstar."

---
6. The Crow
Although some of the gloomy industrial-goth tracks on this one sound a little dated, there's no denying the awesomeness of stuff like "Golgotha Tenement Blues."

---
5. Kids
Larry Clark's grim picture of teen life in New York City came with a staggeringly diverse soundtrack ranging from Daniel Johnston to Jeru the Damaja.

---
4. Tank Girl
In the 90s Courtney Love was at least sort of sane, and she did a bad-ass job putting together this collection of mostly female-fronted rock acts.

---
3. Pump Up The Volume
It's not surprising that a flick about a pirate radio DJ would have a badass soundtrack, and this 1990 platter featured Henry Rollins with Bad Brains taking on the MC5's classic "Kick Out The Jams"

---
2. Trainspotting
The grimy adaptation of Irvine Welsh's junkie epic featured tracks from dinosaurs like Iggy Pop alongside the latest electronica from Underworld and then-booming Britpop.

---
1. Judgment Night
Melding the hottest hard rock acts with the fiercest rappers of the decade seems logical now, but when the Judgment Night soundtrack it blew everybody's minds.